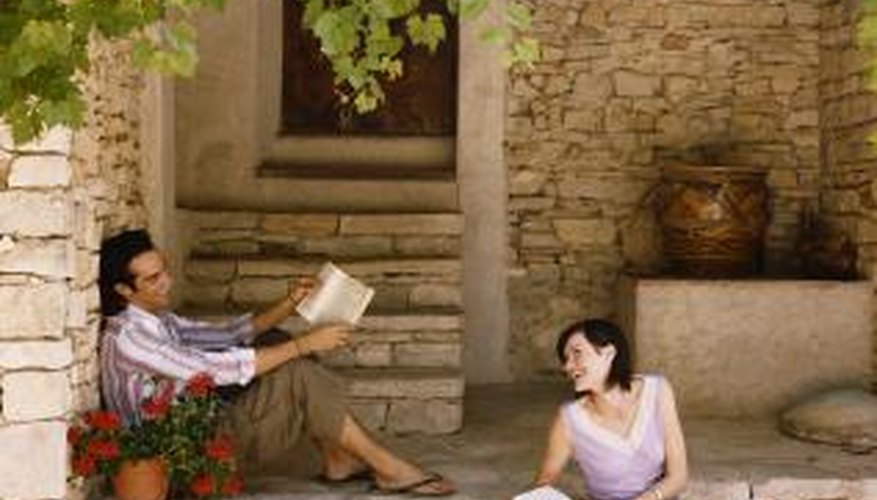 Stone veneers are applied in a similar fashion, so if you are familiar with how veneers and cultured stone are applied you have the basic steps down. The only difference between that and the real thing is that working with actual stones is far more labor intensive. Putting stones on your porch posts is a demanding physical task, but it will leave you with a rustic and long-lasting finish result.
Step 1
Layer the porch posts with wire mesh and felt paper. Cut the felt paper to fit with a utility knife and staple it in place with the hammer tacker, then layer the wire mesh on top of that. Cut the mesh to fit with the metal shears and staple it in place in a similar fashion.
Step 2
Mix up some concrete mortar in your wheelbarrow with the shovel. Use the mason trowel to apply a liberal coat of the mud onto the wire mesh, as well as the backs of each individual piece of stone. Press the stones into place. Start at the bottom and work your way up, stacking the stones on top of each other. Tap them with a rubber mallet to set them firmly into the mortar.
Step 3
Mount any heavier stones in place by wiring them onto the wall. Hammer a nail into the porch post just above the piece you need to hold in place. Tie wire around the stone. Set the stone in the mortar and tie off the wire to the nail. Leave it there while the mortar dries.
Step 4
Come back 24 hours after you finish the post to grout. Cut the wire ties off with the metal sheers and remove the nails with the claw on the hammer. Mix up some more mortar in your wheelbarrow. Fill the grout bag with the mortar.
Step 5
Place the tip of the grout bag into the gap between two stones and squeeze the bag gently to force grout out of the tip. Fill the joint according to your preference for joint width. Work your way up across the installation and fill all of the joints the same way. Let the mortar set up for an hour and then remove the excess grout with the hand grout jointer tool.
Things You Will Need

Work gloves
Safety glasses
Dust mask
Felt paper
Utility knife
Wire mesh
Metal shears
Hammer tacker
Wheelbarrow
Shovel
Concrete mix
Mason trowel
Rubber mallet
Nails
Wire
Hammer
Chisel
Grout bag
Grout jointer tool
Tip
Sort through stones to use relevant sizes, or snap them off with a hammer and chisel if you need to make "cuts." For best results, only work on 3- or 4-foot sections at a time. Trying to install more than 3 or 4 feet of vertical stone can result in the weight of the stone pushing lower stones out of the mortar.