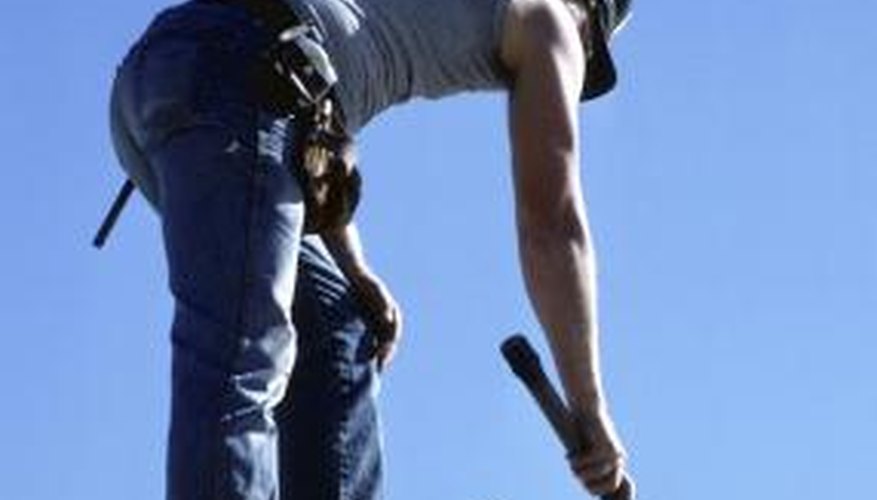 Modified bitumen consists of polymer-modified bitumen that is reinforced with fabric materials such as polyester, fiberglass or a combination of these compounds. The resulting products have increased flexibility and puncture-resistance, according to the Asphalt Roofing Manufacturers website. Installation of modified bitumen roofs can be done with a hot torch to melt the materials together or with a cold adhesive. The easiest method for do-it-yourselfers, however, has a pre-applied adhesive with a cover sheet that is removed at installation.
Step 1
Ensure that the roof deck is in good condition. Repair deteriorated areas to create a good surface for the new roof membrane.
Step 2
Install the base sheet over the roof deck, hanging the material over the fascia and behind the gutters. The base sheet is a waterproofing underlayment that comes in 39.375 inch rolls .07 inch thick that you unroll in overlapping sheets on the roof surface. Start at the lowest point of the roof at the gutter or fascia edges. Fasten the sheet with nails every 9 inches and in staggered rows across the surface, 18 inches apart. Modified bitumen roofing is generally installed in 2 or 3 ply sheets. Roll the base sheets thoroughly with the roller to prevent opening of the laps. Continue along the entire surface of the roof.
Step 3
Install edge flashing over the base sheet along all edges of the roof, setting the flashing in a 1/8-inch layer of roofing cement. Nail the flashing in securely at 3-inch intervals, staggering the rows along the surface.
Step 4
Prime the edge flashing with a high-quality metal primer to avoid peeling of the cap sheet.
Step 5
Set out the cap sheet membrane sheet as you will install it on top of the base sheet. Allow the membrane to relax for at least 30 minutes to minimize wrinkles. Lay into position, overlapping the edges according to manufacturer's instructions or at least 3 inches.
Step 6
Roll up the membrane halfway and remove the adhesive film. Carefully roll it back into place, smoothing the material before it adheres permanently, overlapping edges at least 6 inches. Continue over the surface of the roof. Then, roll up and adhere the other half of the sheets.
Step 7
Roll the surface of the membrane with a weighted, linoleum-type roller, paying particular attention to overlapping edges as you roll along the surface.
Step 8
Seal the sheet edges with roofing cement to prevent separation of layers.
Step 9
Roller the sheet thoroughly to seal the layers together.
Things You Will Need

Membrane kit
Hammer
Nails
Utility knife
Roller, weighted
Flashing
Metal primer
Paint brush
Roofing cement
Broom for smoothing out material
Goggles
Glove
Work shoes
Safety harness