How to Refinish a Bakers Rack
A baker's rack looks like a bookshelf with wire or wrought-iron shelves at the top and bottom and a single wooden shelf in the center. It is traditionally used as a place to set baked goods while they cool. While the metal portion of most baker's racks is powder coated with color at the factory, you can achieve a professional refinished look with spray paint designed for use on metal or wrought iron.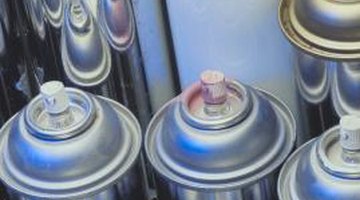 Step 1
Remove any wooden shelves by unscrewing them from the underside or back where they are attached to the rack.
Step 2
Clean the rack and the shelves with a degreaser, such as trisodium phosphate, or TSP, and rinse well.
Step 3
Sand the rack and the wooden shelves with a fine-grit sandpaper, and then wipe them down with a clean damp rag to remove any dust created by sanding.
Step 4
Place the rack outside on several sheets of newspaper or plastic sheeting.
Step 5
Spray a thin coat of primer on the baker's rack. Follow the manufacturer's instructions for applying the primer, such as shaking the can well before application and keeping the nozzle about 6 to 8 inches away from the rack while spraying.
Step 6
Wait for the primer to dry. This usually takes about two hours.
Step 7
Spray on a thin coat of paint in the same way that you applied the primer. Let the paint dry for two to four hours, and then apply a second thin coat.
Step 8
Lay the wood shelves across a pair of sawhorses.
Step 9
Roll or brush on a thin coat of primer on the wooden shelves and let it dry according to the manufacturer's instructions, usually around four hours.
Step 10
Apply a thin coat of paint on the wooden shelves in the same way you applied the primer, let it dry and then apply a second coat of paint.
Step 11
Replace the wooden shelves and screw them into place once the paint has cured for at least 24 hours.
References
Tips
Replace or tighten bolts and nuts as necessary before painting if the rack is wobbly or pieces are loose.
Warnings
Don't paint on windy days or when the temperature is lower than 60 or higher than 85 degrees Fahrenheit.
Photo Credits
Hemera Technologies/AbleStock.com/Getty Images
More Articles