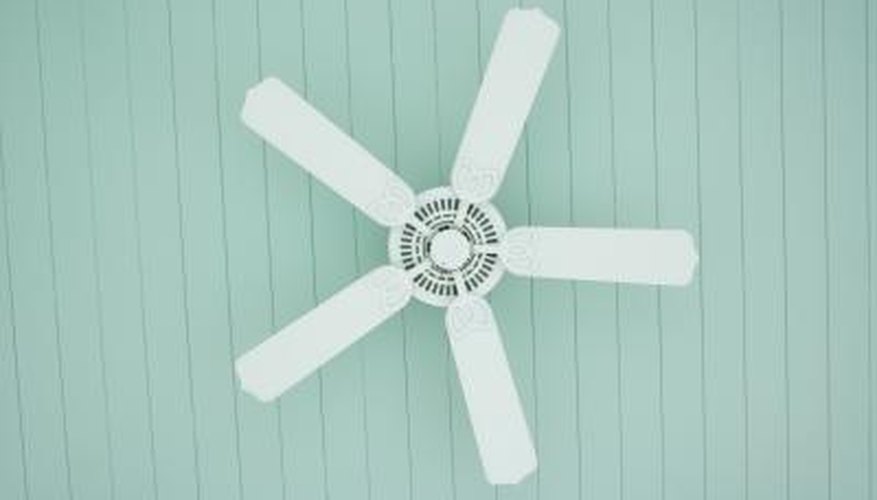 Paint fan blades to match a room, decorate to pick up a design from a comforter or fabric, or even add wallpaper to the blades if you are feeling particularly industrious.
Step 1
Remove the fan blades from the brackets. Fan blades are generally attached to the brackets with three screws in each blade. Sometimes the screw heads are on the top of the blade and you need a short-handled screwdriver to get to them.
Step 2
Wipe the dust and debris from the blades. Clean with a damp cloth and let dry. Sand the blades so the paint will adhere better. Wipe again to remove the dust from sanding.
Step 3
Spray the blades with a light coat of high-quality spray paint. Wait until the first coat of paint dries and cover with a second coat of paint. Remember, not all the blades have to be the same color. Paint the blades alternating colors, for instance, if you have a comforter with red, gold, brown and yellow in the design.
Step 4
If you have a wallpaper border in the room, and some left over, paint the blades to match the walls. Then, carefully cut out designs from the border and use wallpaper paste to apply the cutouts to the blades.
Step 5
Make refinishing the fan a family project. Allow your child to choose the designs or even use colored markers to draw her own after you have painted the fan blades. If she outgrows it, you can either paint over, or simply flip the fan blades upside down for a fresh start.
Things You Will Need

Screwdriver
Cleaning cloths
Paint
Wallpaper
Markers
Tip
While the blades are down, vacuum and clean out the fan housing.