How to Install a Spitter in your Pond
Isn't "spitter" an awful name for a statue that sits in your pond or next to it and pours out water that is pumped through it? But spitters they are and we all call them that. Spitters can be frogs or fish or classic statuary. If it pours water out of a tube, it's a spitter. Installing a spitter is relatively easy. The hardest part is making sure all the water the spitter spits goes back into the pond and not next to it.
Placing the Spitter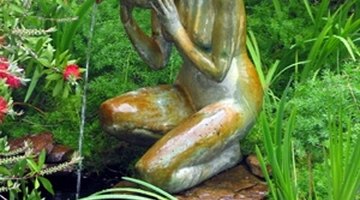 Place your spitter where all the water pumped through it will return to the pond.

Place the spitter on cinder blocks or another pedestal in the pond. This is the safest way to be sure the water will spray only in the pond. Or, place your spitter on a flat surface next to your pond. Be sure the surface tilts the spitter slightly toward the pond to ensure the water returns to the pond.

Place your spitter so the opening to attach the flexible tubing is accessible.
Installing the Spitter
Attach flexible tubing to your spitter and fasten with a hose clamp.

Attach the other end of your flexible tubing to your submersible pump and fasten with a hose clamp.

Place your submersible pump near the spitter, preferably on top of a rock or cinder block so it is off the pond bottom.

Plug in your pump.

Check where the water is going. Make sure it is re-entering the pond. If the pump is too strong, the water could be shooting over the pond to the other side. If this happens, crimp the tubing until the water is under control. If your pond starts losing water, make sure the tubing is open and dirt-free. Check to see if the tubing inside the spitter is free of algae and any other obstructions. Make sure the water is not drooling down the front of your spitter and out of the pond.
Tips
Using a spitter and not a waterfall will conserve water, because you do not lose as much to evaporation.
Warnings
Never install a spitter without using a GFCI (Ground Fault Circuit Interrupter) electrical outlet. If water touches a GFCI outlet, it will turn off the electricity instantly.
Writer Bio
This writer has been at the writing craft for over 50 years from long before computers or even electric typewriters. Now retired from her day job she spends retirement hours writing for online sites.
Photo Credits
More Articles