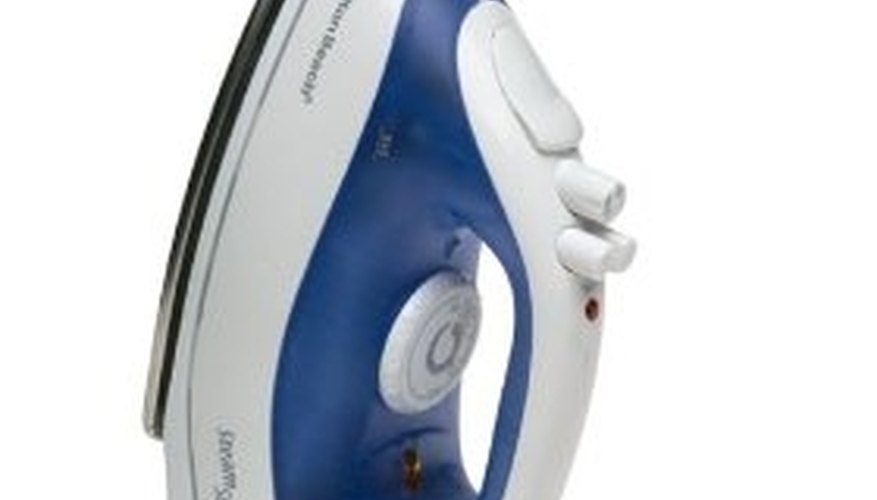 These irons are notable for their comfortable design that is perfect for pressing but also boast a high-power steam system that provides fast and effective vertical steaming for quick touch-ups. These irons also feature a water reservoir with a hinged fill-hatch and a translucent design, so it's easy to see when more water is needed. The temperature control dial regulates heat according to fabric type and the steam knob lets you control the steam output. The scratch-resistant stainless steel soleplate heats up in about 2 minutes and the self-cleaning feature makes it easy to steam out any buildup from inside the iron.
Determine the type of fabric the garment you wish to steam is made of. Hang the garment in a location that will not be affected by heat or steam.
Ensure the iron is not plugged into an electrical outlet. Set the Steam On/Off Control to the Dry Iron setting indicated by the "O." Position the iron with the soleplate parallel to the ground.
Open the Water Fill Cover. Fill a measuring cup with cold tap water. Pour water from the cup slowly into the iron's water tank until the water level reaches the MAX fill line. Close the Water Fill Cover.
Plug the iron into a working electrical outlet. Set the Temperature Control Dial to the fabric within the steam range that most closely matches your selected garment. Set the iron on its heel rest. Wait for 2 minutes to allow the iron to reach the selected temperature.
Hold the steam iron vertically approximately 6 inches from the wrinkled area of the garment. Press and release the Blast Button to release a burst of steam. Repeat as necessary to remove all wrinkles from the garment.
Turn the Temperature Control Dial to the Off position when you have finished steaming your garment. Unplug the iron. Pour any remaining water into the sink by slowly tipping the pointed end of the iron down until all of the water runs out of the reservoir.
Set the iron on its heel rest until it is completely cool. Wrap the cord loosely around the handle of the iron and store in an upright position.
Tip
Always ensure the iron is turned to the Off position before unplugging or plugging the appliance into an electrical outlet.