How to Make Eyelet Curtains
Eyelet curtains aren't hung in the traditional manner, with the curtain rod inserted directly into the fabric. Instead, the eyelets allow the curtain to be hung from the rod with curtain hooks (or the rod can be threaded through the eyelets). These curtains can add a new dimension of style to any room in your home. Depending on what type of material you have and how many curtains you want to make, this project is fairly inexpensive. Eyelet curtains are simple to make, even for those who don't have much experience in sewing.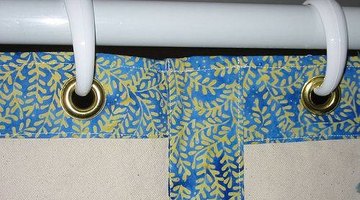 Measure your windows for the curtains. Remember to add 1 inch on all sides for seam allowances. Eyelet curtains look better when they don't extend all the way to the floor--but the length is always your choice when making curtains.

Set whatever material you have selected for your curtains on a hard surface and cut it to the measurements you made in Step 1. Add a strip of curtain tape that runs the length of the top edge of your material. Fold 1-inch hem on the top edge of your material. Iron down the hem. Fold down the bottom and side edges and iron them as well. Insert pins to help keep the hem folded down. Do the same with the material for the other curtain. Apply curtain tape only to the tops, as it will help to reinforce the material when you make the eyelets.

Sew the hems on all sides of both curtains. Take out the pins as you go along; sewing over them could cause the needle to break.

Hold the curtain so the back faces you. With a fabric pen, mark a dot halfway up the top hem, close to the edge. Center the ridged part of the eyelet on the dot and draw a circle on the inside of the eyelet. Fold the material in the circle, make a small slit and carefully cut around the circle.

Place the ridged part of a plastic eyelet under the hole and the pronged part on top of the hole, and snap the two pieces together. Mark more places for holes, as far apart as you want them to be, on your curtains. When you have finished the last hole, you can hang up your new eyelet curtains.
Check out this related video.
Writer Bio
Maryelser is a full time freelance writer. She specializes in cooking, gardening and crafts and has published numerous articles on eHow.com.
Photo Credits
More Articles