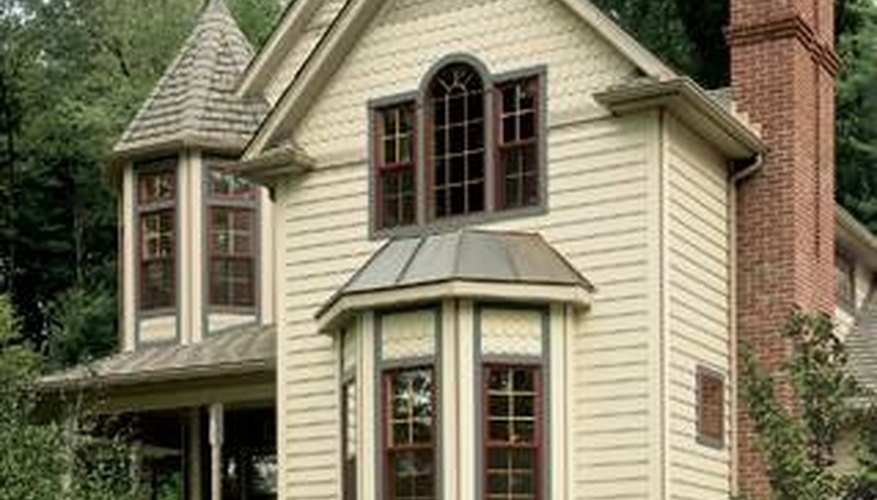 The product is sold at most building supply stores and can be purchased in 3 1/2-inch and 5-inch widths. Vinyl siding comes in numerous colors and provides the look of real wood around windows. It is an ideal alternative to more expensive products. When trimming the windows with vinyl siding, it is important to minimize all gaps, as vinyl siding has a tendency to leak more than other types of material. But if properly installed, you shouldn't have any problems at all.
Measure the space around the window, from top to bottom and from side to side. The top and bottom pieces must be cut to extend past the edges, the length of the width of the vinyl siding. For example: if the top and bottom window measurements are 3 feet, and the vinyl siding is 5 inches, cut the two pieces 3 feet 10 inches. The side pieces will only extend from the top window edge to the bottom edge. They will butt up against the top and bottom pieces, but will only encompass the actual length of the window.
Mark the vinyl siding and cut the lengths with a chopsaw. Make sure the cuts are clean and straight.
Nail the vinyl siding pieces in place using 3 1/2-inch nails. Make sure to hammer the nails through the studs in the wall for maximum holding strength. Your vinyl trim around the window must be installed with all sides flush. Nail the two side pieces in place, then nail on the top and bottom strips.
Hang the vinyl siding on the house per the manufacturer's instructions. Butt the siding up against the vinyl trim already installed around the window.
Place a thin bead of caulking between the vinyl siding around the window and the siding on the house to seal any gaps.
Things You Will Need

Tape measure Chalk Chopsaw 3 1/2-inch nails Hammer Vinyl siding Caulking Gloves Goggles
Tip
After you place your top and bottom vinyl siding pieces, remove them and trim them so they lie flush with the side pieces.