How to Make Your Own Table
Making a custom table for your kitchen or dining room allows you to size the table to fit your space. It's easy to make your own table with pre-cut wood for the frame and the top, some decorative trim and table legs that you can find at your local home improvement store. Add tile to the top of your table or hand paint it with stencils or other decorative paint techniques.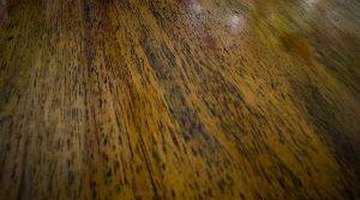 Measure the dimensions for your table and take the list to your local home improvement store. The dimensions in the list included here are for a table measuring 6' x 4'. Adjust the dimensions to fit your table, and your local home improvement store will cut the wood to size for you. The 4' and 2' boards are for the table top brace and allow for a 2' inset all the way around the underside of the table.

Build the table brace by attaching the "L" brackets to either ends of both 4' boards. Add the 2' boards to the "L" brackets, creating a rectangle. Add the remaining "L" brackets on the outside of the rectangle, one at each corner. Place these brackets so that the table top will rest on the top of the bracket.

Attach the table top to the brackets. Place the table top face-down on a flat surface, and install the four table legs, one at each corner of the table or at each corner of the brace. If the table legs do not have built-in screws in the center of the leg top, then secure them to the underside of the table with one screw on each side of the leg. Insert the screws at an angle through the leg, and then into the table top.

Stand the table upright and place the decorative trim around the perimeter of the table top to hide the raw edges. First, add a bead of glue, and then place the trim and secure it with finishing nails. It helps to have an extra set of hands for this step. Let the glue dry.

Sand the table top, trim and legs with medium grade sandpaper, then with a light grade sandpaper. Remove all of the sanding debris, and stain or paint your table.
Tips
Drill pilot holes for the screws to make it easier to insert them.
Warnings
Wear a mask when sanding and gloves when handling wood.
Writer Bio
Katherine Kally is a freelance writer specializing in eco-friendly home-improvement projects, practical craft ideas and cost-effective decorating solutions. Kally's work has been featured on sites across the Web. She holds a Bachelor of Science in psychology from the University of South Carolina and is a member of the Society of Professional Journalists.
Photo Credits
http://www.sxc.hu/photo/977819
More Articles