How do I Strengthen a Sectional PVC Flagpole?
To display a flag with pride, a flagpole needs to be ridged. While sectional PVC poles offer ease of installation and affordability, they often lack the strength needed to hold a flag over long periods of time without sagging. In just a few easy, cost-effective steps any PVC flag pole can be reinforced.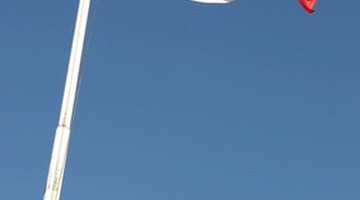 Measure the length of the assembled flag pole with the measuring tape. Measure the same length of dowel rod and cut the rod using a hand saw.

Apply PVC glue to each joint of the flag pole. Allow the glue to completely dry.

Insert the wooden dowel into the open end of the flag pole. Tap the end of the dowel lightly with the hammer to drive the entire length of the dowel into the PVC flag pole.
Tips
Purchase the size rod that fits the most snug inside the hollow opening of the PVC pole.
Photo Credits
canadian flag image by Melissa Schalke from Fotolia.com
More Articles