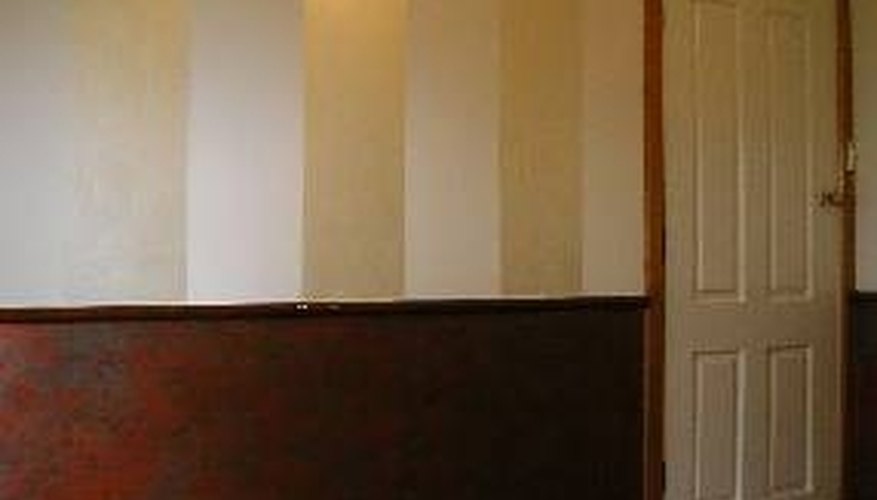 It can make the ceiling look higher, and it will give the walls texture. It will look like a wallpaper finish if you take your time to prep the walls carefully so that every stripe comes out perfectly.
Paint the wall you wish to apply stripes to so that it has a good clean coat of paint. This will be the contrast for the stripe you will be painting, so make it the same hue for better blending. High contrast will make the wall busy while similar stripes will create a luxurious or rich colored wall. For tone-on-tone stripes, use the same color but semigloss finish for the base and flat finish for the stripe.
Allow the wall to dry for at least 48 hours before trying to apply a coat of stripes. Otherwise, the tape will just pull off your new paint. Add a dehumidifier to the room if you are working in humid conditions to help dry the paint faster.
Measure your wall from corner to corner. Divide your total measurement by how wide you want your stripe to be. For instance, if your wall is 120 inches wide (10 feet) and you want 10-inch-wide stripes, divide 120 by 10 and you get 12 stripes total. That means only 6 new stripes, since the other 6 will be the paint already on the wall.
Mark the first stripe out half the width of a stripe, starting from the corner behind the door, in this case 5 inches. Make a mark at the top of the wall, the middle and the bottom. Run a piece of tape so that it meets each of the measurements and check it with a level to make sure it is straight.
Make a mark along the top of the wall every 10 inches, starting with the first one already taped. Do the same thing for the middle and the bottom. This will take some time, but if you do it well, it will yield a beautiful wall with perfectly straight stripes.
Run a line of tape at every mark, making sure to rub down the edges so that they are flush with the wall. If you don't, the paint can seep under the tape, making a messy edge. Check every line of tape with your level to make sure you have not drifted off center. Tape off the bottom as well as the top edge.
Roll out your new paint on every other stripe. Paint just over the edge of the tape to get a nice straight edge. If you have used a semi or glossy paint, you will need to pull the tape off before the paint has dried. Flat paint can be allowed to dry before pulling off the tape.
Things You Will Need

Paint, 2 colors
Roller and pan
Low-tack painter's tape
Measuring tape
Pencil
Level
Tip
When you pull the tape off, twist it slightly away from the newly painted surface.