How to Paint a Brass Chandelier
Give an outdated or blemished brass chandelier a fresh appearance by covering it with a new coat of paint. You can complete this painting project from start to finish in a short amount of time with a can of spray paint and a few painting supplies. Choose a paint hue to enhance your existing furnishings and color scheme.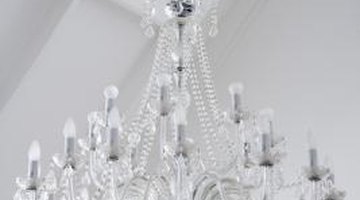 Step 1
Turn off the circuit breaker that controls the electricity running to the chandelier.
Step 2
Unscrew the cover of your chandelier with a screwdriver so you can visually see the hidden electrical wires running up to the ceiling.
Step 3
Remove the plastic caps that tie the ceiling and fixture electrical wires together and place them aside. Untwist the connected wires.
Step 4
Unscrew the chandelier from the ceiling mounting bracket.
Step 5
Remove any lampshades, bulbs or crystals from the chandelier, and set them aside.
Step 6
Apply a liquid cleaner, such as trisodium phosphate, to a soft, clean cloth. Wipe down the chandelier with the dampened cloth to remove any dirt or dust. Use a clean, dry cloth to completely remove any moisture from the chandelier.
Step 7
Attach blue painter's tape to areas of the chandelier that you want to avoid painting, such as light sockets.
Step 8
Place the chandelier in a cardboard box and apply a thin coat of spray paint primer. Once the first primer coat is completely dry, apply a second primer coat. Apply a third coat of primer after the second coat is thoroughly dry. Rotate the chandelier to cover it completely.
Step 9
Spray the chandelier with a thin, even coat of paint in the desired color. Apply a single layer of paint, allowing it to dry completely before spraying on the second paint coat. Apply additional layers of paint until you reach the desired outcome. Ensure each paint coat is dry before spraying on the next one.
Step 10
Remove the blue painter's tape.
Step 11
Screw the chandelier back into the mounting bracket, and connect the electrical wires of the chandelier to the ceiling wires, replacing the plastic caps.
Step 12
Secure the decorative ceiling cover of your chandelier to the ceiling with a screwdriver, and attach any previously removed accessory items and light bulbs.
References
Resources
Tips
Avoid spraying thick coats of primer or paint on the chandelier to eliminate unsightly drips.
Warnings
Open a nearby window or door to ventilate the space with fresh air before spray painting the primer and paint. You can also move outdoors to prime and paint your chandelier in accommodating weather.
Writer Bio
Melynda Sorrels spent 10 years in the military working in different capacities of the medical field, including dental assisting, health services administration, decontamination and urgent medical care. Awarded the National Guardsman's Medal for Lifesaving efforts in 2002, Sorrels was also a nominee for a Red Cross Award and a certified EMT-B for four years.
Photo Credits
Jupiterimages/Goodshoot/Getty Images
More Articles