How to Install High Pressure Sodium Security Lighting
Adding security lighting to your home is a great way to deter would be thieves, and add lighting for out door activities. High-pressure sodium lamps produce a great amount of light and are often found in municipal street lights.
Install a HPS Security Light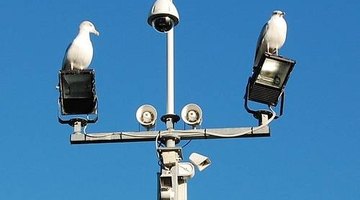 Have an electrician run a line to the location where you would like your light to be located. Once the line is run you can simply install the light yourself.

Install the conduits box in the location where the light will be located. Ensure that the electricity has been turned off.

Connect the wires together. Black with black, white with white, and ground with ground. Cover the exposed wires with yellow electrical caps.

Screw in the lamps base to the conduit box. Make sure that you do not crimp the wires in the process.

Install the high pressure sodium light and ensure that you do not touch the light. Fingerprints on the glass will shorten the life of the bulb.
Resources
Tips
Use a towel to screw the light in, making sure you do not touch the glass.
Warnings
Do not install while the electricity is still plugged in.
Writer Bio
David H. VerEecke began writing professionally in 2008 and focuses on health and fitness topics. He has been published in Respondez!, the University of Tampa's nonfiction journal, and sits on the editorial board for the book currently. He has a B.S. in finance from the University of Tampa.
More Articles