How to Remove Drywall Tape
Drywall tape is used to seal the joints between panels of drywall. If the tape was incorrectly installed, you may notice cracks, blistering or bubbling that increases over time. If this occurs, the tape will have to be removed and eventually replaced. The removal process is not difficult, but it may be messy, so cover any furniture or carpets with drop cloths or sheets before beginning the process.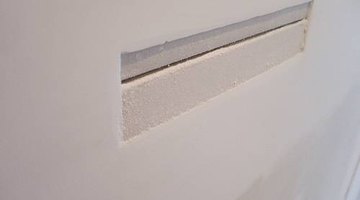 Examine the wall or ceiling area with the bad tape for bubbles or cracks.

Determine the exact length of drywall tape that needs to be removed.

Cut the tape at each end with a utility knife. Press firmly enough to cut only the tape since there is no need to cut the drywall beneath the drywall tape.

Sponge the length of tape with warm water and allow it to soak for several minutes.

Peel the tape off by gently lifting one of the cut edges. If the tape begins to rip, sponge the tape with warm water again.

Remove any bits of paper that remain by using the sponge to soften them and then peel them off. Once the area is clear of loose paper, the tape can be replaced.
References
Tips
If you are finding it difficult to remove the last bits, you can gently scrape the area with a drywall knife or other flat tool.
Writer Bio
Stan Mack is a business writer specializing in finance, business ethics and human resources. His work has appeared in the online editions of the "Houston Chronicle" and "USA Today," among other outlets. Mack studied philosophy and economics at the University of Memphis.
More Articles