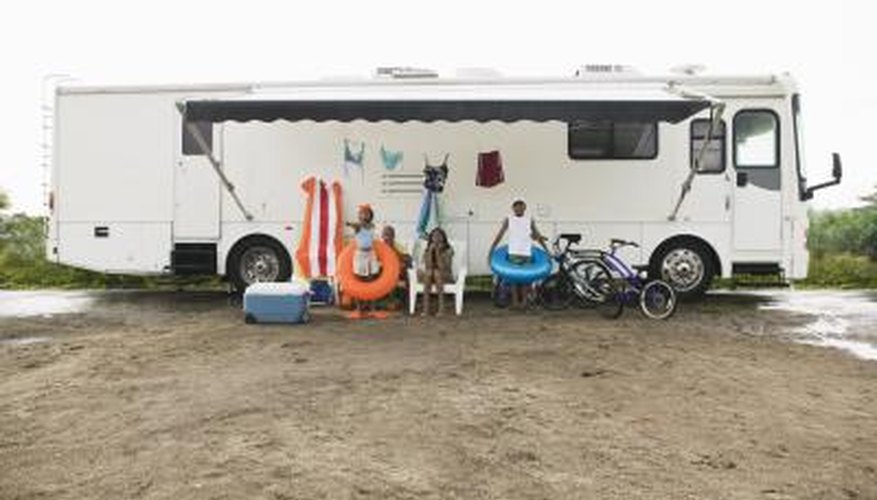 This will require you to measure the height and width of the walls of your mobile home to determine how many panels will be required. You will then need to take all decorations and light fixtures off of the walls before starting the project.
Step 1
Take off any wood battens that were used to cover the seams of the panels. Insert the pry bar under the batten and pry it off of the paneling.
Step 2
Remove the existing paneling in your home with the pry bar. Place the end of the pry bar in between the seams of the panels and strike it with a hammer to force it under the panel. Push the pry bar until the panel begins to separate from the wall.
Step 3
Measure the height that is needed for the new panels with a tape measure. Mark the measurements on the new panels with a pencil.
Step 4
Cut the new panels to the proper length by using a circular saw and cut along the pencil mark.
Step 5
Draw a template on a piece of paper to mark the location of outlets and switches on the wall. Draw an outline for the switch and outlet on the paneling. Drill access holes in each corner of the outline with a drill. Insert the jigsaw into one of the access holes and cut around the outline.
Step 6
Apply construction adhesive to the back of the paneling and press it against the wall and then pull it off. Wait for about 30 seconds for the adhesive to start to set and then press the paneling firmly against the wall.
Step 7
Set additional panels on the walls so that the edges of the panels overlap slightly.
Step 8
Secure the panels by hammering a finish nail into the top and bottom edge where the panels overlap.
Step 9
Place new battens over the seams and secure them with the finish nails.
Things You Will Need

Pry bar
Hammer
Tape Measure
New panels
Pencil
Circular saw
Paper
Power drill
Jigsaw
Construction adhesive
Finish nails
Battens
Tip
Use screws with a power drill if you do not want to secure the panels or battens with nails.