How to Remove Pollen Stains From the Exterior of a House
Cleaning the exterior of a home is a chore that often gets put off. It does require a bit of stamina, but the results are well worth the effort. Siding begins looking stained and discolored from things like pollen and mold. Pollen is a common food source for mold and sets up your home for damage if it is not brought under control. All remnants of pollen stain are removable by most homeowners in a few hours.
Removal from Stained Wood and Cedar Exteriors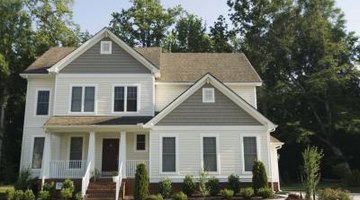 Step 1
Rinse the wood siding with plain water from a garden hose.
Step 2
Mix 2 cups of oxygen bleach to 5 gallons of water.
Step 3
Scrub the siding with the oxygen bleach and water using a long-handled brush. Let the mixture sit on the wood for a few minutes. The foaming action will clean the wood.
Step 4
Rinse well with the garden hose. Give the wood 24 hours to dry before leaning anything against it.
Removal from Painted Wood, Composite, Vinyl and Stucco
Step 1
Mix 4 cups of TSP pre-mix cleaner with 5 gallons of water. This product can be purchased at home improvement centers.
Step 2
Starting at the bottom of the siding, begin scrubbing with the TSP/water mixture. Scrub in small increments to avoid allowing the TSP to dry on the surface of the home exterior.
Step 3
Rinse with a garden hose from the bottom to the top. Rinse each section until the water coming off the siding runs clear.
Step 4
Work your way methodically around the home. Use an extension handle cleaning brush to reach the higher areas of the siding.
References
Resources
Tips
Cleaning siding is an important part of keeping your home looking great, according to the experts at Foremost Insurance Groups.
Warnings
Wear safety glasses and gloves when working with TSP or oxygen bleach.
Take frequent breaks due to the strain of this project on the back and arms.
Photo Credits
Jupiterimages/Comstock/Getty Images
More Articles