How to Clean Unfinished Pine Boards
Pine is a softwood that is white to pale yellow. It is useful in making furniture and wood crafts.The pale color gives an old-fashioned ambiance to the furnishings. Cleaning unfinished pine boards is part of caring for the wood. Whether it is lumber you are preparing for a wood-working project or simply a beloved piece of furniture, the proper care will help it to last and look its best for many years.
Ammonia Method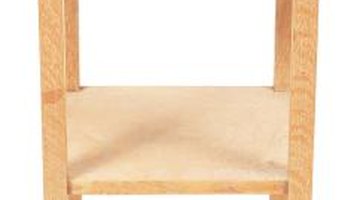 Step 1
Dust the pine wood with a cleaning cloth or feather duster.
Step 2
Mix a cleaning solution of 20 percent ammonia and 80 percent water in a bucket.
Step 3
Dip a soft cleaning cloth into the solution and wring it out well.
Step 4
Rub the cloth over the entire surface of the pine wood. This mixture is effective in cleaning soil or stains from the unfinished wood.
Mineral Spirits Method
Step 1
Wipe off the unfinished pine boards with a soft cloth or feather duster to remove any dust or loose soil.
Step 2
Dip a soft cleaning cloth into the mineral spirits or turpentine.
Step 3
Wipe down the surface of the unfinished pine boards. This method effectively cleans greasy grime, oil, wax buildup and furniture polish from wood surfaces.
References
Writer Bio
Chelsea Fitzgerald covers topics related to family, health, green living and travel. Before her writing career, she worked in the medical field for 21 years. Fitzgerald studied education at the University of Arkansas and University of Memphis.
Photo Credits
Hemera Technologies/Photos.com/Getty Images
More Articles