How to Install a Ceiling Fan on a Concrete Ceiling
Ceiling fans are an economical method of keeping an area comfortably cool while saving on your energy bills. In an area where the ceiling is made of concrete, the installation process can be a bit more challenging. Drilling and anchoring into concrete is not something most weekend handymen do on a regular basis. While this task will likely require skills you have not yet mastered, there is no reason the task can't be successfully completed.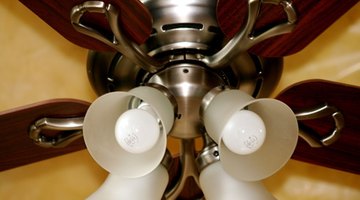 Step 1
Inventory the components supplied with your fan. Most kits will come with some style of mounting bracket intended to mount the fan between two ceiling joists. These types of brackets will be of no use on this install. You will need to locate the bracket that would normally be screwed into the electrical junction box in the ceiling. This will now be your main mounting bracket for your fan.
Step 2
Mark the location for the ceiling fan. Take careful measurements and be certain the fan is in the position you desire. Use the mounting bracket as your guide. Hold the bracket in place against the ceiling and mark the location of each hole. Depending on the bracket, you may have an option of two or four holes. If so, drill all four for added holding power.
Step 3
Drill the holes using the masonry bit. Be certain to use the correct size bit for the screws you have purchased. You should wear eye protection when drilling, and since you will be drilling overhead, you may want to consider a dust mask to protect yourself from falling cement dust.
Step 4
Install the plastic hole liners for the masonry screws. These liners will expand as you install the screws to provide a very secure fit. With the liners in place, mount the bracket, being certain to get each screw tight and secure.
Step 5
Wire the swag kit to the ceiling fan motor. Follow the directions that came with the ceiling fan to make all wiring connections. Make certain all wire connections are tight and no bare wires are visible. Route the swag wire through the motor housing of the fan, but do not plug it in yet.
Step 6
Mount the fan to the bracket as shown in the instructions provided with the fan. Each fan kit will be slightly different, so be certain to follow the instructions closely. With the fan in place, route the swag wiring to a nearby wall, then down to a power outlet. Plug in the cord and test the fan for proper operation.
References
Writer Bio
Tom Raley is a freelance writer living in central Arkansas. He has been writing for more than 20 years and his short stories and articles have appeared in more than 25 different publications including P.I. Magazine, Pulsar and Writer's Digest.
Photo Credits
More Articles