How to Use Fencing Pliers
Fencing pliers or combination pliers perform the duties of many kinds of individual tools that all types of fencing require. A sturdy steel manufacturing process in combination with soft handgrips allows this tool to last for many years in building and maintaining all fence types. This is the only combination tool that can cut, pull, twist, hammer, stretch and crimp fence and fencing supplies in one compact tool that is easy to carry in your pocket.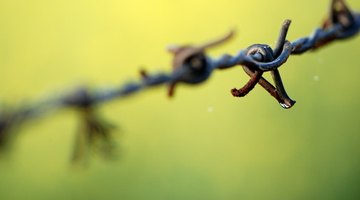 Step 1
Drive fence staples into a fence made with wooden poles by using the fencing pliers flat head with cross hatches, which involves striking the fence staple with the hammer-like head to drive them into the poles to hold barbed wire, cattle panel, field fence or any other type of fence in place.
Step 2
Cut wire with fencing pliers to make a barbed wire or electric wire fence. There is a wire cutter deep inside the jaws of the pliers that will cut from either side. Fencing pliers will also grip wire in the wide teeth on the end of the jaws to twist into loops for attaching spring electric wire gates. Splice wire together to attach pieces for longer lengths of wire.
Step 3
Fasten wire ties with fencing pliers by wrapping around the post and placing each wire tie end around the fencing. The jaws allow squeezing wire tightly to wrap in a circular motion around the fencing to ensure stability.
Step 4
Stretch barbed wire by firmly gripping the wire and turning the wire in a twisting motion, which will pull the wire into a loop that you turn in one direction to tighten with each turn. Older fences or fences that have damage from falling trees will loosen and sag. Fencing pliers can tighten all of these areas.
Step 5
Strike nails with the head to drive them into any type of wood with a hammering motion. Protruding nail tips will snip off with the wire cutter deep in the jaws so that the sharp tips do not cause injury to animals or persons.
Step 6
Pull staples by inserting the long curved tip of fencing pliers under the middle of the staple and pulling in an outward motion. Leaning the tool and using the post or wood that the staple is in for leverage helps to pull tightly driven staples. This part of the pliers works as the curved end on a claw hammer.
References
Writer Bio
Mary Lougee has been writing for over 10 years. She holds a Bachelor's Degree with a major in Management and a double minor in accounting and computer science. She loves writing about careers for busy families as well as family oriented planning, meals and activities for all ages.
Photo Credits
More Articles