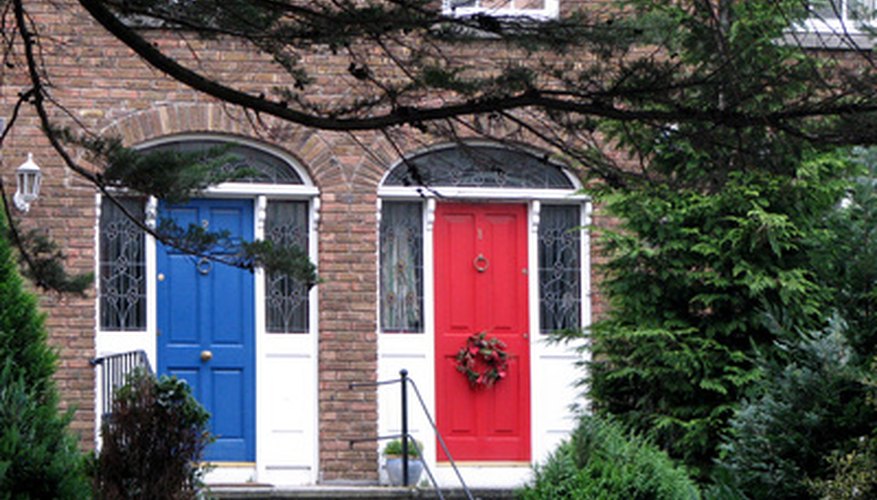 This simple energy-saving step takes only an hour or two of your time. It works on vinyl-clad doors and wood doors, protecting your home from chilly temperatures and drafts. Performing the maintenance step once every few years is smart as weatherstrips wear down after repeated use.
Step 1
Measure the length of the inside edge of the door jamb from the floor to the top of the door jamb, using the tape measure. Cut two strips of weatherstripping to this length with hand snips.
Step 2
Measure the width of the door jamb from one side to the other. Cut another strip of weatherstripping to this measurement, using the hand snips.
Step 3
Place one of the longer sections of weatherstripping along one of the inside edges of the door jamb.
Step 4
Insert a 1/2-inch nail through the mounting hole at the top and hammer the nail through the door jamb, securing the weatherstrip in place. Hammer three more nails into the strip through the mounting holes.
Step 5
Place the next two sections of weatherstripping along the door jamb and attach to the door with hammer and nails.
Things You Will Need

Tape measure
Hand snips
Hammer
1/2-inch nails
Tip
Shut the door after installation to ensure weatherstripping does not impede or prevent the door from closing. If it does, remove the weatherstripping by pulling each nail out of the jamb and install a thinner weatherstrip.