How to Paint a Mural on Fabric
At first glance, murals appear to be the product of impressive artistic talent. In actuality, however, most any amateur can create a mural if he or she knows the tricks of the trade. If you would like to paint a mural on fabric, you should use a specific type of paint or you will end up with a finish that will flake and peel over time. In addition, you will need to use a specific positioning technique that will encourage a smooth, detailed finish free of skips and smearing.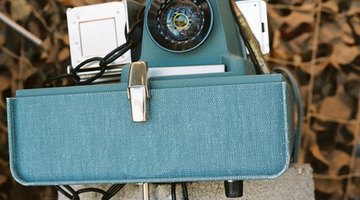 Wash the fabric with ordinary detergent, then dry it in a clothes dryer. Do not use fabric softener.

Tape plastic drop cloths onto a wall using painter's tape.

Tack the fabric against the wall on top of the plastic drop cloths. Ensure that the fabric is stretched out tightly so all wrinkles are removed.

Cover the flooring beneath the fabric with heavy-duty drop cloths.

Insert the image slide into the projector and position it so it casts the image onto the fabric.

Paint the mural with acrylic paint using craft brushes. Use the projected image as a guide.
Resources
Tips
You can have a photograph converted into a slide at most any photo lab.
Dim the lighting in the room if you are having a difficult time seeing detailed areas of the projected image.
Warnings
Do not use masking tape in place of painter's tape or the plastic will not hold.
Writer Bio
Ryan Lawrence is a freelance writer based in Boulder, Colorado. He has been writing professionally since 1999. He has 10 years of experience as a professional painting contractor. Lawrence writes for High Class Blogs and Yodle. He has a bachelor's degree in journalism and public relations with a minor in history from the University of Oklahoma.
Photo Credits
old slide projector image by charles taylor from Fotolia.com
More Articles