How to Reupholster a Futon Cushion
Futon mattresses are a popular choice for a convertible bed/couch option. This simple design allows the futon to sit upright during the day while laying flat at night. Usually futons come with a removable cover that is designed to allow the homeowner to launder the cover when it becomes soiled, but sometimes wear or damage become so extensive that it is time to replace the cover.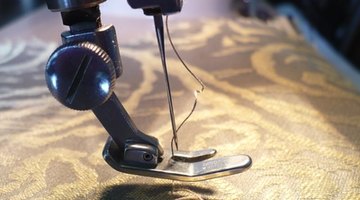 Shop the bargain bins at bedding stores. What you are looking for is a quality double or queen size cover made of durable bedding materials. Try to find a cover with no seams. Usually a comforter set will be double sided. These sets are thicker and more sturdy than plain sheets. Wash your bedding to shrink it.

Rip the seams on your existing futon cover. Usually the futon is made of two large flat pieces with gathers at the corners. The closure is either a long zipper or hook and loop tape.

Rip the seams of your new comforter to separate the front from the back side. You can usually retain the quilt liner with the front. This will give the front of your futon extra plushness.

Place your new cover material face side down on your work surface and pin the old futon cover facedown. This will give you an exact pattern to work from. Cut the new cover. Repeat this process for the second fabric.

Place your two new fabric pieces right sides together and sew a double seam for strength around three sides. Be sure to gather at the corners similar to the pattern.

Measure and cut heavy-duty hook and loop tape, and sew the tape along the bottom side of the new futon cover. Sew double seams for strength. Turn your cover right side out and cover your futon.
References
Tips
Often bedding packages come with matching fabrics for extra pillows. This will allow you to make accessories for your new futon cover.
Writer Bio
F.R.R. Mallory has been published since 1996, writing books, short stories, articles and essays. She has worked as an architect, restored cars, designed clothing, renovated homes and makes crafts. She is a graduate of the University of California at Berkeley with bachelor's degrees in psychology and English. Her fiction short story "Black Ice" recently won a National Space Society contest.
Photo Credits
More Articles