How to Make Moroccan Couches
Moroccan decor has a definite look with jewel colors and low furniture. Fabrics are the main part of decorating a Moroccan room. You can use lots of cloth, some everyday pieces, and make beautiful Moroccan couches. Start with base pieces and make the decor style to go on it.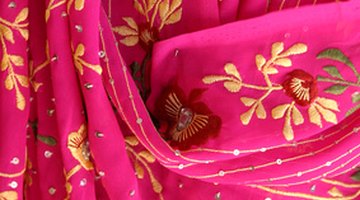 Step 1
Place a twin box spring and mattress in the living room against a wall. The wall will be the back of the couch. This is your base piece to place the couch's signature parts on.
Step 2
Get nine yards of striped jewel tone pieces of fabric. Use wine, royal blue, royal purple, gold, dark pink and jewel green when picking out fabric. Cut them in three, three-yard pieces.
Step 3
Sew a straight stitch around all of the edges of the three pieces of fabric. Make 1/2-inch double folds and sew one straight stitch around the fabric to create finished edges. Spread these three pieces of fabric from front to back on the mattresses. Let them drape on the floor and overlap each other, covering the mattresses completely.
Step 4
Get eight yards of solid jewel-toned fabrics. Select solids that will coordinate with the striped fabrics on the mattress.
Step 5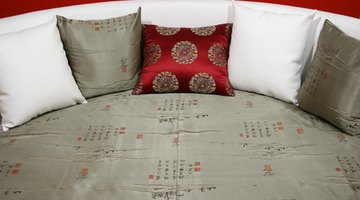 Sew each yard of fabric with straight stitches to create a large pillow cover. Put the right sides together and sew one inch seams all around. Leave half of the fourth side un-sewn. Turn the fabric right side out. Stuff until firm with pillow stuffing. Hold the opening together and straight stitch on the very edge to close. Repeat this process seven more times. Place six of the pillows on the back of the couch, four against the wall and two sitting up in front of the four. Place the last two pillows on the right and left edges as arm rests.
References
Tips
Make more jewel-tone fabric throws and place diagonally on the edges of the couch to add more texture and layers.
Add more throw pillows if you wish. The more fabric and pillows, the better.
Writer Bio
Anita Billings has been writing since April 2009. Hundreds of her articles appear on eHow, with expertise in piano, decor, landscaping, crafting and travel. Billings received a diploma in business merchandising from King's College in 1974.
Photo Credits
pink fabric image by Melissa Schalke from Fotolia.com
pillow on sofa image by Pavel Losevsky from Fotolia.com
More Articles