How to Repair the Vinyl Strapping on a Lawn Chair
Lawn furniture is generally left out in the sun and elements for several months of the year. This can cause dry rotting, especially in vinyl furniture. If the vinyl straps break or weaken, save money by replacing the straps rather than replacing the entire lawn chair.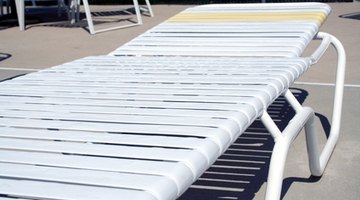 Remove the old strapping with a sharp knife and clean the excess strapping out of the 1-inch grooves on the frame of the chair.

Apply a thin layer of petroleum jelly over the holes where the strapping is intended to fit. Use about a dime-sized bead on the strap slots on the aluminum frame of the chair. The lubrication will make it easier to install the replacement strapping.

When holding the strap, you will notice a little tab cut into each end of the vinyl. Use the screwdriver to push the tab of the strapping into the gap on the chair frame. Wrap the strapping over the chair frame. Apply petroleum jelly to the hole on the other side of the frame, and use the screwdriver to push the second tab into place.
References
"Furniture Projects for the Deck and Lawn (2x4 Projects Anyone Can Build series)"; John Kelsey; 2004
Writer Bio
Philip Powe started writing in 1987 for St. Louis area newspapers. He has since written for "St. Clair County Historical Society Journal" and the "American Association of State and Local Historians Journal." Concentrations are in home and garden, philosophy and history. Powe holds a Master of Arts in intellectual history from Southern Illinois University.
Photo Credits
Reclining chair at the pool image by Jim Mills from Fotolia.com
More Articles