Using Hubcaps for Wall Decoration
When you think of hubcaps, you don't think of them as wall decorations. However, there seems to be a niche of decorators that have found this unusual item and put them to use in home décor. With a wealth of hubcaps lying around in junkyards or thrift shops, your imagination is the limit when it comes to decorating with hubcaps.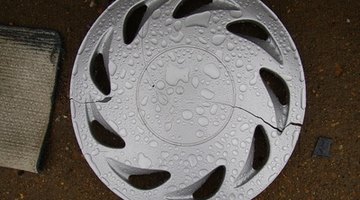 Create a theme around the hubcaps. This works particularly well when dealing with a child's room. If the child is into fire trucks, paint the hubcaps a bright red and hang them on the wall with heavy-gauge metal hooks. Stencil a white or silver ladder across a muted red wall to enhance the effect.

Proclaim your hobby by portraying it on a hubcap. Paint the hubcap in an appropriate color for your room. Choose a selection of stencils and paint colors that pertain to your hobby. Paint the stencils in, waiting four hours for the paint to dry between colors. Spray a clear coat of paint over the hubcap. Hang the decorated hubcap on the wall with a small cup hook.

Paint a hubcap to color coordinate (red or yellow) with your child's race car themed room. Stencil a steering wheel onto the center of the hubcap. Paint the wall in a black and white checkered pattern. Hang the steering wheel hubcap on the wall using a small cup hook.

Spray paint two hubcaps in a color that will match your room. Attach them to the wall using sturdy cup hooks, three feet away from one another. Place a 2x6-inch by 3-foot piece of wood across the tops of the hubcaps. Where the wood lies on the top of the hubcap, screw them together with some metal screws.

Install a clock mechanism in the center of a hubcap. Most clock mechanisms happen to be the same size as a standard hubcap. Drill a small hole in the center of the hubcap for the hands to be attached. Hang the clock hubcap with a small cup hook.
References
Writer Bio
Marsanne Petty has been a writer and photographer for over ten years, and is currently pursuing the combination in tandem. She attended Madison Community College, receiving a degree in Administration. She has published several articles for magazines, including Jack Magazine, and the local newspaper, the Jasper News. Her latest creation, a pictoral history of Hamilton County, Florida, was published in early 2009 through Arcadia Publishing.
Photo Credits
rainy day lost hubcap image by Christopher Martin from Fotolia.com
More Articles