How to Wash a Suede Comforter
Suede is a soft fabric that's popular for many garments, and even to use as a cuddly comforter for your bed. The downfall of suede is that it can be a challenge to clean, but its smooth softness almost makes up for this hurdle. If you've got a nice suede comforter that you want to clean, try some at-home methods to washing suede that may help refresh that comforter, and save you a trip to the cleaners.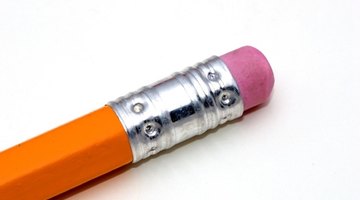 Read the label. Some suede is actually safe to wash in your washer and dryer, so read your label and find out if cleaning that comforter is as simple as a toss in the washer. If not, take note of the instructions and what chemicals and methods the label warns you to avoid.

Lay out your comforter on a clean, flat surface and gently brush it with a suede brush, or natural bristled hair brush, to lift up fibers and prepare it for cleaning.

Remove any dry spots or stains first, using a pencil eraser. Gently rub the dry spot in small circles until the spot lifts. Inspect the entire comforter front and back to ensure you've gotten all the dry spots.

Run a clean washcloth in cool water for a second then wring out any excess water. You want a damp cloth but not a sopping one. Apply a little bit of white vinegar to the washcloth and then gently dab any fresh stains on your comforter. Don't push too hard, as this may further set the stain into suede. Allow the comforter to air dry in a dark place.

Brush the area where you applied the white vinegar with your suede brush to remove any excess stain. Continue brushing the rest of your comforter.

Sprinkle baking soda all over one side of your suede comforter and gently brush so that baking soda gets into the fibers. Let comforter sit for about 30 minutes, then vacuum it. Repeat this step with the other side of your comforter.
References
Tips
If your comforter still has stains, you may need to make a trip to a professional cleaner, as you don't want to damage the product using harsh chemicals at home.
Window cleaner is another popular remedy for stains on suede, and can be used the way white vinegar was used.
To simply refresh a suede comforter, just sprinkle on baking soda and vacuum it up as in the final step.
Warnings
Never put suede into a washer to wash it, unless it is faux or the label instructs that you can do so.
Never soak suede, with water or cleaning solutions, as this can leave a stain behind once it dries. Instead just dampen suede lightly when cleaning at home.
Writer Bio
Amy Davidson is a graduate from the University of Florida in Gainesville, with a bachelor's degree in journalism. She also writes for local papers around Gainesville doing articles on local events and news.
Photo Credits
More Articles