How to Price a Used Refrigerator
Start by assessing the condition of the refrigerator you want to sell. Do a bit of research online and in local resale shops to learn the selling prices of similar used fridges. Then, choose what price is right.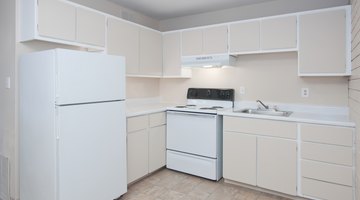 That old adage about one person's trash being another's treasure seems particularly fitting when it comes to used appliances. A wealthier couple might sell a like-new refrigerator simply because it no longer complements their kitchen décor. In stark contrast, the quintessential poor college student searches for the cheapest, smallest fridge possible to fit both her budget and closet-sized apartment. A wide range of sellers and buyers exist for every budget, and a used fridge doesn't need to work to have value, either. Repair shops can use used parts for quick fixes to save time and money.
Assess the Refrigerator's Condition
Giving the refrigerator a thorough inspection, inside and out, is crucial in appraising its value. Any dings, dents, rust spots, loose hinges, broken shelves/drawers, loose seals, etc. should be noted. Also, leave the fridge plugged in for at least 24 hours to make sure it still works. This is especially important if you aren't the original owner, but even if the fridge is yours and worked just fine the last you knew, you definitely want to double-check. Being honest with the buyer is a top priority, so you need to familiarize yourself with the current condition of the fridge.
Window Shop
People do still walk into actual stores and buy things, especially large items such as appliances. This is particularly true if there happens to be a thrift store, discount furniture store or a refurbished/used appliance store nearby. If there is such a place nearby, this should be your first stop when looking for comparable used refrigerators. Keep in mind that it's unlikely you will find an exact duplicate of the classic ivory Kenmore sitting in your garage. However, the goal is to hopefully find a few with similarities: the brand, age, size, features, condition, etc. Many of these established businesses have often earned a good reputation through longevity and providing good customer service. If you are lucky enough to have a used appliance store near where you live, you might already know someone familiar with the used appliance market who has a lot of knowledge to share.
Research Online
As with so many other purchases, used or new, large or small, online shopping has become the most popular way to find whatever you want, wherever you are. Online classifieds are one way consumers can locate specific items, often gently used or previously loved. In fact, without websites such as Craigslist, items with a lot of life left might go unclaimed. Begin by searching on Craigslist, choosing your state and city, then selecting the appliances category. There you will hopefully find refrigerators similar to yours, or – like with window shopping – find a few with enough similarities to inform your asking price. Pay attention to how long the listing has been posted. If the seller is asking $300 but the fridge is still unsold after a month or more, chances are good that the description is inaccurate and/or the item is overpriced.
Warning
If you choose to list your refrigerator on Craigslist or another website, try to avoid having interested buyers come to your residence. Many cities have designated meeting places specifically for carrying out such transactions. If there's not one in your area, choose a busy, well-lit area as a meeting place. In the event you don't have a way to load up a large appliance, which is quite a chore, make sure you have someone at home with you when the buyer comes to your house. Have the fridge outside or near the door to limit access to the inside of your home.
If, after assessing, window shopping and researching, you decide it's not worth your time to try to sell your used refrigerator, check with your local waste management company and/or recycling center for the proper way to handle refrigerator disposal in your area.
References
Resources
Writer Bio
Jess Jones worked for a real estate broker in both listing, assessing, and helping to flip residential properties for several years while attending graduate school. After obtaining her own real estate license, she took a position working for a custom home builder. Jones worked closely with clients in finalizing plans, making specific selections for each new build, and helping to solve problems in the building process. She holds both a B.A. and an M.A. in English.
More Articles