How to Find Discontinued Furniture
If you're looking for a particular brand of furniture but would like to avoid paying top price for the latest models, discontinued furniture is the way to go. If the factory produced millions of pieces of a particular line and model, chances are not every item was sold quickly or went from wholesaler to retailer to someone's home. Cast a wide enough net and you'll find the exact furniture you are looking for, and you may even come across something you like better.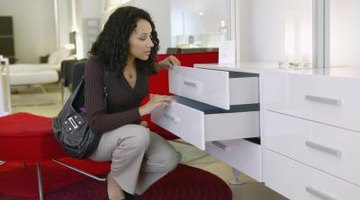 Step 1
Take out a classified ad in the local newspaper or in an online publication to advertise what you are looking for. This is helpful if you are looking for a specific model and year, as opposed to a general type or style of furniture. Some classified services, like craigslist or DomesticSale, are free. Do not indicate in the ad what price you are willing to pay.
Step 2
Take advantage of seasonal and clearance sales at local furniture stores. According to TheFurniture.com Guide, discontinued lines lines may be available at these sales for reduced prices. Often these sales occur at the end of a season to make room in the store for pieces of furniture that are more relevant to the time of the year.
Step 3
Shop for the item or items online. View online classifieds like craigslist, web auction sites like eBay or discount sellers like Liquidation.com. You can also contact furniture companies like Thomasville or Ashley directly to see if they still have the item in stock or know who carries it. Typing in the name of the item in a general search engine might turn up a discount furniture store or service you did not know existed.
Step 4
Visit yard sales, thrift shops, antique stores, estate sales and auctions. If the furniture was made at a local factory, you stand a decent shot of finding what you are looking for if you stop at enough sales. If the sellers have a lot of furniture and seem to be knowledgeable on that topic even though they don't have what you are looking for, ask them for search tips.
References
Resources
Writer Bio
Aaron Gifford is based in New York. He has been on staff at the "Syracuse Post-Standard," the "Watertown Daily Times" and the "Oneida Daily Dispatch." He's also written for "Long Island Newsday," "Empire State Report" magazine and "In Good Health." He has been writing professionally since 1995. Gifford holds a Bachelor of Arts in sociology from the University at Buffalo.
Photo Credits
Digital Vision./Digital Vision/Getty Images
More Articles