How to Buy Showroom Furniture for Less
Showroom furniture is often sold directly off of showroom floors. Retailers need to sell floor models for various reasons, and consumers can take advantage of this by employing different approaches to maximize the discounts on those floor models.
Buy During Floor Model Sales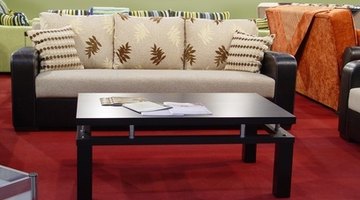 Most furniture showrooms have floor model sales at least once a year to clear floor space for new merchandise. Many have floor model sales when new merchandise is arriving quickly or items are being discontinued, or if they need to generate revenue quickly or are going out of business.
Ask for Cash Discount
Retailers have a higher profit margin and instant revenue when a sale is paid in cash. They don't have to pay a percentage of the sale to their credit card processor or wait for their card processor to deposit funds into the store's bank account. Ask the salesperson if she can offer you a discount if you pay in cash. Cash discount percentages will vary depending on the mark up the store has on its list price.
Shop at Factory Outlets
Bernhardt Furniture, a well-established residential furniture manufacturer based in North Carolina states on its website that its outlet, shoppers will find "showroom samples, discontinued products, and slightly damaged or mismatched items for every room in the home."
References
Writer Bio
Based in Los Angeles, Kelly Aguilar is public relations manager for Slopecycle LLC, an action sports company and general manager of Dwell Floor Five Inc., a home furnishings retailer. She has a bachelor's degree in journalism from California State University, Los Angeles, were she wrote for the University Times.
Photo Credits
More Articles