How to Locate Discontinued Kincaid Furniture
It's frustrating to fall for a piece of furniture only to find out it's been discontinued. With a piece of Kincaid furniture, it's doubly so, since it's hard to find a similar substitute. Kincaid remains one of few makers using solid wood construction. It is possible to find discontinued Kincaid, but Kincaid doesn't sell directly to the public, so you'll have to work with a dealer.
Check Kincaid Furniture Warehouse Stock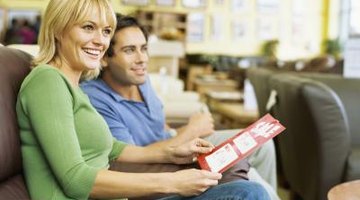 Step 1
Visit the Kincaid website, kincaidfurniture.com. Click "Find a Dealer" and enter your ZIP code to find the nearest furniture store that carries Kincaid furniture.
Step 2
Call or visit the furniture store. Take your product catalog or furniture photo, if you have one. Ask a salesperson to call Kincaid's automated phone system for checking warehouse stock of discontinued furniture. You can't call on your own because the system requires a dealer code.
Step 3
Ask the salesperson to call the Kincaid warehouse if the automated system says warehouse stock is available. Pieces with damage or missing parts sometimes get counted as available stock in their automated system. A warehouse employee can check to see if a piece is usable.
Step 4
Place your order with the furniture store immediately if the Kincaid warehouse has your piece. Ask the salesperson to write "discontinued, limited stock" on your sales ticket, so the ordering department knows to prioritize your order. Request that the order be placed with Kincaid that day.
When Kincaid Furniture Has No Warehouse Stock
Step 1
Go to the Kincaid website and click "Find a Dealer" again. Enter your ZIP code, but use the pull-down menu for a list stores within a 100-mile radius.
Step 2
Call the Kincaid dealers on your list, starting with the closest ones geographically. Ask a salesperson from each store if she has the discontinued piece on the floor or in the warehouse.
Step 3
Generate another list if none of the Kincaid dealers within 100 miles has your piece. Use ZIP codes from other states and areas. Keep calling until you find it.
Step 4
Purchase the piece by phone when you find it. If the store is too far away for pick up or delivery, ask to have the piece shipped.
References
Wayne Shielly; Samuels Furniture; Memphis, TN
Resources
Tips
If a furniture store doesn't have a regular shipping company, ask if someone can crate the piece for you. Call a shipper in that area to arrange pick up and shipping.
If you find your piece at a furniture store, either on the floor or in the warehouse, ask the salesperson to inspect it for damage.
Warnings
Your salesperson will need the Kincaid product number to check for discontinued pieces. If you don't have it, ask if they keep catalogs for discontinued collections.
Writer Bio
Leah James has been a full-time freelance writer and editor since 2008. With more than a decade of experience in interior decorating, she frequently writes about home design. She studied English literature at Lyon College.
Photo Credits
George Doyle/Stockbyte/Getty Images
More Articles