How to Identify a Drexel Heritage Pedestal Dining Table Hutch
The Drexel Heritage name is a widely respected one in the world of furniture manufacture. Many older pieces of Drexel Heritage furniture are still going strong after decades of use, and some have even increased in value. If you have a Drexel Heritage pedestal dining table hutch in your home, you can learn more about it and perhaps even find its current market value.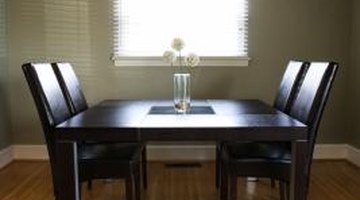 Step 1
Turn the Drexel Heritage dining table hutch around so that the back of the piece is accessible. Be careful moving the furniture, since old Drexel Heritage pieces can be quite heavy.
Step 2
Look for a three-digit number, followed by a dash and three more digits. This is the item number assigned by Drexel Heritage when the dining table was manufactured. If you see an item number but a different format, you may have a piece that was made before 1971. The Drexel Heritage item number format was not standardized until 1971.
Step 3
Turn the dining table hutch over so that you can access the underside if you do not see a number stamped on the back. Drexel Heritage places its identification numbers either on the back of the piece or on the underside.
Step 4
Write the item number down, along with the collection name and approximate production year if you have it. The more information you can supply the easier it will be for a Drexel Heritage dealer to tell you about your piece, or an antiques dealer to tell you its value.
Writer Bio
Based in Pennsylvania, Bonnie Conrad has been working as a professional freelance writer since 2003. Her work can be seen on Credit Factor, Constant Content and a number of other websites. Conrad also works full-time as a computer technician and loves to write about a number of technician topics. She studied computer technology and business administration at Harrisburg Area Community College.
Photo Credits
Thinkstock Images/Comstock/Getty Images
More Articles