Where to Buy a Mattress Cheap
Most of us spend one-third of our lives sleeping, which means that a mattress is one of the most important furnishings in the home. According to the International Sleep Products Association, approximately 73,000 mattresses are sold daily, and in 2002 the average price paid for a mattress was $600.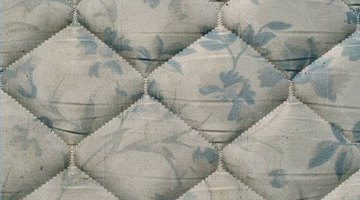 That price can be out of reach for some consumers, so what are the best ways to find a mattress on the cheap?
Sales
Sales are a great place to start. Keep an eye on the newspapers, TV ads or radio promotions to know when these sales are happening. Start with department stores, as they have occasional bedding sales.
Check with mattress specialty stores for their "scratch and dent" section where they sell slightly damaged or irregular products at a discount.
Look for going-out-business sales at stores that sell mattresses.
Keep an eye out for bankruptcy settlements and furniture liquidations, often listed in the newspaper classifieds.
Discount Stores
Membership stores like Costco and Sam's Warehouse sell less-expensive mattresses and sets to customers who have paid a small annual fee.
Stop by your local Goodwill and Salvation Army locations. Although they're prohibited by law from selling used bedding, several stores now offer new mattresses at a greatly reduced cost.
Check with Rent-a-Center stores. They sell mattresses they've previously rented out for as little as $50 because they're not allowed to re-rent a set.
Internet Sales
Check mattress-dealer websites like Sleepy's.com for specials and deals.
For even greater bargains, try Craigslist--you'll have to sign up for a small fee--eBay and Freecycle.org for used mattresses.
To disinfect used mattresses, try products like Odoban, which kills viruses, bacteria or mildew, or set the mattress out in the sun for several hours. Cover with a good mattress pad.
Miscellaneous
If you're in a hurry and don't have the time for research, consider an air mattress that you pump up, a fold-out futon or a bed mattress topper made from foam or down fiberbed, which can lie on top of a box springs or other surface. At stores like Target and Walmart, such products can range from $50 to $150 at the lower end of the scale.
References
Resources
Writer Bio
Bonnie Singleton has been writing professionally since 1996. She has written for various newspapers and magazines including "The Washington Times" and "Woman's World." She also wrote for the BBC-TV news magazine "From Washington" and worked for Discovery Channel online for more than a decade. Singleton holds a master's degree in musicology from Florida State University and is a member of the American Independent Writers.
More Articles