How to Replace the Belt on a Kenmore Elite Dryer
The Kenmore Elite dryer is a dependable appliance that many consumers use to dry their clothes. Even though a dryer can last for 10 years or more, there comes a time when routine maintenance is needed. Replacing a dryer belt on your Kenmore Elite doesn't require a specialist or even a handyman. You can do it yourself with little hassle in about an hour. Replacing the belt on your Kenmore Elite dryer will give it a better spin cycle needed to fully dry your clothes.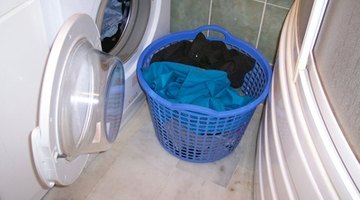 Unplug the Kenmore Elite dryer before you take it apart.

Go to the front of the dryer and use a screwdriver to pry the front panel's top away from the unit. This will detach it from the small plastic clips holding it together.

Lift the front panel off of the dryer cabinet and unclip the dryer's door switch connector with your fingers.

Remove the front panel from the dryer cabinet and place it away from your work area. Look on the bottom right hand side of the unit to find the idler pulley. This pulley will have your dryer belt wrapped around it.

Pull the idler pulley toward you to loosen the strain on the dryer belt. Use your fingers to remove the dryer belt from the idler pulley. Remove the dryer belt from around the dryer drum.

Wrap the new dryer belt around the dryer drum and then pull the idler pulley toward you. Stretch the dryer belt until you can wrap it around the idler pulley. Release the idler pulley slowly so it goes back into place.

Spin the dryer drum for a couple of cycles with your hand so you know the belt is in place. Replace the front panel and the door switch connector.

Plug your dryer back in and test it out with an empty load.
References
Warnings
Do not try to replace the dryer belt while the dryer is still plugged into the wall outlet.
Writer Bio
Charles Poole holds a Bachelor of Arts in creative writing from Appalachian State University. He started freelancing in college for local publications in Boone, N.C. and is continuing his career through online freelancing with a specialization in affiliate marketing, blogging and SEO.
Photo Credits
More Articles