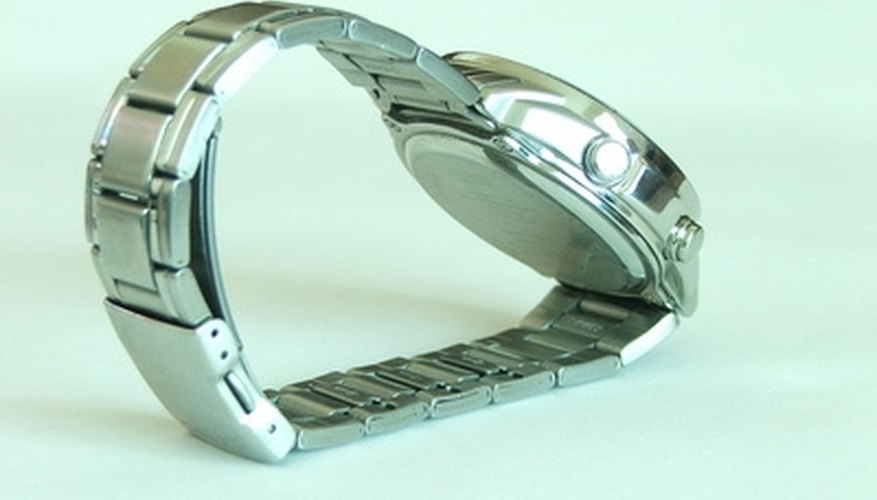 Wristwatch features such as chronographs and stopwatches can even help you monitor and improve your athletic performance. Because most wristwatch manufacturers include several extra links in their metal watch bands, brand new wristwatches rarely offer a perfect fit right out of the box. Luckily, adjusting a metal wristwatch band is a simple task that can be completed in just a few minutes.
Perform your watch band adjustment in a room of your home that offers a clean, flat work surface near a source of natural or artificial light. Pad your work surface with a neoprene mouse pad or sheet of craft felt to avoid accidentally scratching or scuffing your watch face during the band adjustment process.
Center your watch face-down on the mouse pad or sheet of felt. Examine the back of the metal watch band to determine which links can be removed. Note that the backs of removable watch links will be marked with a small arrow.
Look between any two removable links to spot the small metal pin that holds the links together. Use a watch pin removal tool or thumbtack to force out the link pins in the direction indicated by the arrows to remove the desired band links. Ensure that the watch face remains centered by removing links from alternating sides of the watch band.
Reassemble your metal watch band to complete the band adjustment process. Hold the links at both ends of the watch band together. Insert a metal link pin between the two links to join them together. Insert the link pin in the opposite direction from what is indicated by the arrows. Tap the link pin in with a small rubber mallet, if necessary.
Things You Will Need

Neoprene mouse pad or sheet of craft felt
Watch pin removal tool or thumbtack
Small rubber mallet
Tip
The small metal link pins in watch bands are designed to be difficult to remove. If you are unable to force out the link pins with your watch pin removal tool alone, try pulling them free with a pair of needle-nose jewelry pliers.