How to Repair a Barrel Tile Roof
Barrel tiles, also known as Spanish tiles, are semi-cylindrical roof tiles laid in interlocking patterns. These roof tiles are durable, practical, environmentally conscious and evoke authentic old world style. Modern barrel tiles come in a large variety of colors and patterns, and they are fully sustainable. Although barrel roof tiles rarely need repairing, harsh weather conditions may cause individual tiles to crack and break. Basic materials and supplies are effective at repairing barrel tile roofs.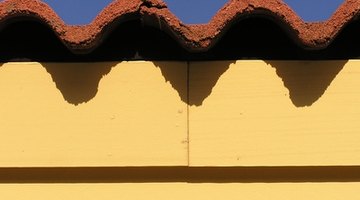 Put on leather work gloves and safety goggles for protection while repairing the tiles. Place a wood strip underneath the lower half of the tile directly above the damaged tile, to act as a wedge.

Remove the nails from the damaged tile, using a pry bar. Use a hammer to break the damaged tile into several pieces. Do not hit any of the surrounding tiles.

Remove the tile pieces from the area. Attach one end of a tile clip to the roof support.

Attach the other end of the tile clip to the underside of the replacement barrel tile. Lay the replacement tile in place with the upper part of the replacement tile slightly beneath the tile directly above.

Shave the edges of the replacement tile with a wet saw if it is stressing the adjacent tiles. Repeat the entire process for each damaged barrel tile on the roof.
References
Writer Bio
April Dowling first started writing in high school and has written many news articles for newspaper and yearbook publications. She is currently pursuing a career as an online writer and affiliate marketer. Dowling writes for several websites and keeps many blogs.
Photo Credits
More Articles