How to Hang a Kitchen Fruit Basket
In smaller kitchens where horizontal spaces like countertops and tables are limited, hanging fruit baskets can offer a permanent spot for your non-refrigerated fruits and vegetables. Baskets keep items out of the way, yet easily accessible. It it not as complicated as you may think to hang your own fruit baskets, and you can do so in just a few minutes with tools you probably already have at home--or no tools at all.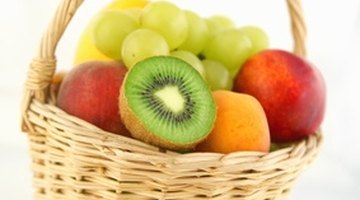 Find a joist in the ceiling in the area where you want your basket to hang. A joist is the same thing as a stud in a wall, but it is in the ceiling. Use a stud finder, or simply knock on the ceiling with your hand. If the knocking sounds hollow, move until you reach a spot where the sound is solid. This is a joist location.

Make a pencil mark on the spot along the joist where you want your basket to hang.

Poke the threaded end of a ceiling hook into the mark you made and twist it around until the threads are all inside the ceiling.

Hang your basket on the hook by the handle or hanging loop and fill it with fruit. For even more organization, choose a tiered basket to separate fruits and veggies or to hold other items like mail and napkins.
References
Writer Bio
Ashley Kurz, a full-time professional writer since 2009, publishes on various informational websites. An expert in the craft field specializing in craft-related topics, Kurz has taught arts and crafts for group therapy sessions.
Photo Credits
small fruit basket image by Dumitrescu Ciprian from Fotolia.com
More Articles