How to Build a Garage Diorama
A garage diorama should include all the basics you would find in a real garage. Attention to detail will make a garage diorama stand out. You can purchase several of the items you use or you can build them from scratch using wood or modeling clay. It is important to create things that are to scale so that the diorama is realistic. A garage diorama should show the different areas of the garage and have the mechanics working on cars.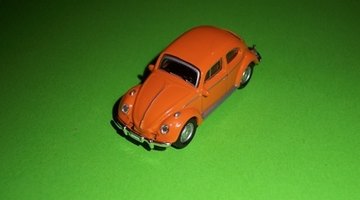 Sketch out your plans for a diorama before you begin building it. On one wall, there should be tools and diagnostic machines. Place tires or cans of oil in one corner. You should include at least one car lift in the garage, as well as the parking lot with cars waiting to be worked on and a waiting area for the customers.

Build the base of your diorama. Sketch out the different sections of your diorama on a large piece of plywood. Paint the parking lot black and the inside floor of the garage gray.

Create the walls for the garage using stiff cardboard. Paint on details such as tools hanging on the walls, windows, a logo for the garage and posters that might be displayed in a garage.

Attach the cardboard to the plywood using glue or tacks.

Add the details to the garage such as the car lift, the cars needing repair and the people working in the garage. You can build the models yourself or purchase them from a craft store. Glue the items in place so they do not move.
References
Tips
Visit several different garages and take pictures to get an idea of what a real garage would look like. Little details, such as a pile of rags or a bottle of oil on a shelf, will make the diorama come to life.
Writer Bio
Miriam C has been writing since 2007. She earned her bachelor's degree in English from Brigham Young University. Among her many jobs, Miriam C has taught middle-school students. She's written for Families.com and other clients on finances, family and education.
Photo Credits
More Articles