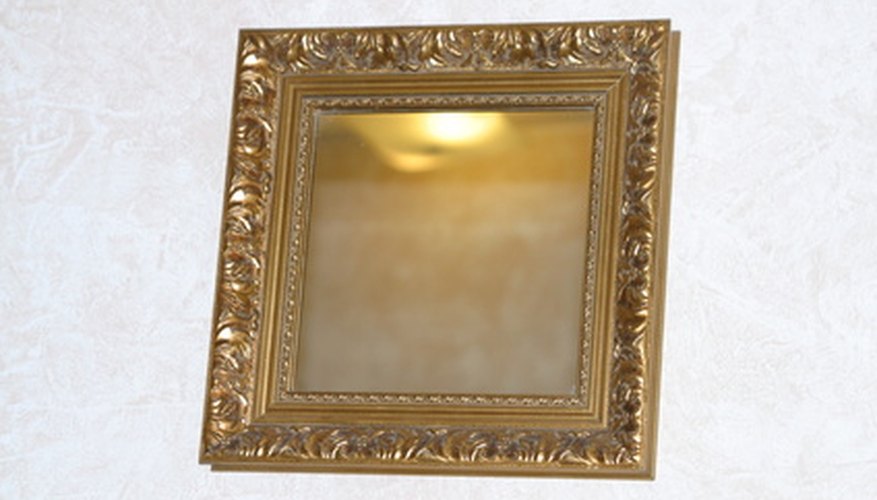 Fancy, framed mirrors tend to be expensive and heavy. However, you can make your own framed mirror to match any decor and stay on budget. Mirror spray paint applied to the back of a framed sheet of Plexiglas makes a lightweight custom mirror. High-quality Plexiglas is as transparent as the finest glass, but it is half as heavy.
Step 1
Put newspaper or plastic sheeting down on a work surface. Work outdoors or in a location with adequate ventilation.
Step 2
Remove the Plexiglas face from your frame. Check to see if there is a protective film on the Plexiglas and peel it off if you find one.
Step 3
Apply a small amount of mineral spirits to a rag. Wipe the Plexiglas to remove any dirt or grease. Go over the surface with a clean, lint-free rag.
Step 4
Place the Plexiglas on the work surface with the back of the Plexiglas exposed. Shake the can of spray paint thoroughly. Spray the paint using a sweeping motion. Apply light, even coats of spray paint until you achieve the desired opacity.
Step 5
Let the spray paint dry for at least an hour. Reassemble the frame with the sprayed Plexiglas surface facing inward. Place the backing that comes with the frame against the painted surface. Be careful not to scratch the spray paint.
Things You Will Need

Newspaper or plastic sheeting
Picture frame with Plexiglas face
Mineral spirits
Rags
Mirror spray paint
Tip
Use high-quality Plexiglas meant for framing art, as it is as transparent as glass.