How to Add Reflective Mylar to the Windows to Keep Heat In
Mylar is a type of polyester film developed and trademarked by DuPont, and is available with a variety of coatings. Mylar with a metalized coating is useful as a window cover that helps keep heat in or out because of its reflective properties. Mylar film is strong, but can be tricky to work with. Mylar is inexpensive and commonly comes in sizes measuring several feet in each direction, for convenient application on any size window.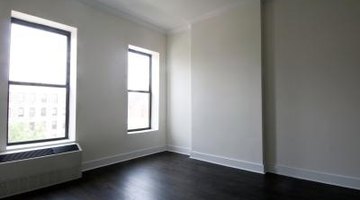 Measure the dimensions of the glass pane in the window.

Cut the Mylar sheeting to the dimensions of the measured window pane, using scissors.

Apply double-sided tape to the outside edges of the window pane.

Slowly attach the top side of the cut Mylar sheet to the top side of window's double-sided tape. Proceed slowly to ensure no air is trapped, causing bubbles under the film. Place the "shiniest" side of the Mylar sheet so that it's facing in toward the room.

Attach the Mylar to the sides and bottom of the window's taped edges.

Repeat this process for other panes within the window.
References
Tips
Mylar is commonly attached to the inside of pull-down shades to provide heat-retaining properties. Furthermore, these pull-down shades can easily be turned "backward" in the summer to reject heat, lowering the cooling requirements.
Warnings
Mylar is fairly unforgiving when it comes to pulling it off and reattaching it to the tape. Working slowly and ensuring a flush initial attachment is essential.
Do not burn Mylar as it gives off toxic gases.
Writer Bio
Gabriel Dockery began writing in 2009, with his work published on various websites. He is working toward a Bachelor of Science in neuroscience in a transfer program between Ivy Tech College and Indiana State University.
Photo Credits
Jupiterimages/Photos.com/Getty Images
More Articles