How to Make a Pull Chain Light Remote Controlled
Ceiling mounted pull switches offer a convenient and safe method of turning lights on in an environment where direct contact with the electrical switch is inadvisable. These switches introduce their own problems, however, as not everyone is in a position to be able to reach or grip the cord. A wide variety of remote-controlled electrical switches are available, and replacing a pull cord with an infrared or radio-activated switch increases ease of use.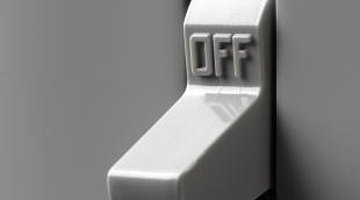 Ensure the power is turned off, and then remove the existing pull switch and its back box from the ceiling.

Pass the electrical wires through the back of a square, single-gang, surface-mount back box. Where possible, affix the box by screwing it directly into ceiling joists. If no ceiling joists are located directly above the box, drywall cavity fixings should be used to ensure a solid mounting.

Connect the wires to the remote-controlled light switch per its instructions. This will differ from switch to switch, but all will include a live input feed and a live output to the light fitting, which must be connected as described in the instructions.

Turn the power back on and test the switch's operation using the remote control. If required, follow the procedure for programming the remote control to the light switch once the power is turned back on.
References
Tips
Most pull-switches are mounted on a circular back box that must be replaced with a square one for the remote-controlled switch. Many remote controls come with a wall mounting bracket for storage. Affixing this low down on the wall, directly beneath the ceiling-mounted light switch, is a good way to keep the control safe and easy to access. Unlike a pull switch, the remote switch won't come under any direct strain during use, so affixing it to the ceiling only requires fixings strong enough to hold the weight of the back box and switch unit.
Writer Bio
Spanner Spencer has been writing since 2005 for a variety of print and online publications. Focusing on entertainment, gaming and technology, his work has been published by Eurogamer.net, "The Escapist," "GamesTM," "Retro Gamer," "Empire," "Total PC Gaming" "The Guardian," among others. Spencer is a qualified medical electronics engineer with a Business and Technology Education Council certificate in technical writing from Huddersfield Technical College.
Photo Credits
Jeffrey Coolidge/Photodisc/Getty Images
More Articles