How to Convert an Outlet for a Washing Machine
Washing machines run off of 110 volts, as do most standard appliances in the home, unlike a dryer or stove requiring 220 volts. When repairing or installing a washer outlet, a GFCI (ground fault circuit interrupter) outlet is recommended for use. The GFCI has a built-in circuit breaker that monitors the flow of electricity and trips (or turns) itself off if there is a short in the circuit. You should consider using GFCI outlets around sources of water in the kitchen or bathroom.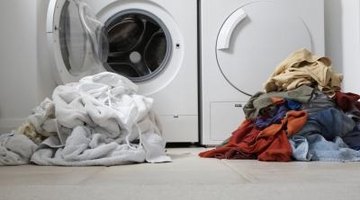 Turn off the power to the outlet to be changed, at the main circuit panel. The main circuit panel is typically located in the garage or utility room in the home.

Remove the screws, using the screwdriver, that are holding the outlet cover onto the outlet box. Remove the screws holding the standard 110 volt outlet and pull the outlet out of the box as far as the wiring will allow. Loosen the screws to remove the wiring on each side of the outlet, and discard the outlet.

Connect the new GFCI outlet to the existing wiring, using the screwdriver and the following connections. Looking at the back of the GFCI outlet, locate the two screws (brass and silver) that are labeled "Line." Connect the black (hot) wire to the brass screw, and the white (neutral) wire to the silver screws. Connect the bare (ground) wire to the green screw. Tighten each wire under the appropriate screw to a snug fit with the screwdriver.

Push the wiring back into the electrical outlet box, and affix the outlet to the box using the screwdriver and included screws in the kit to tighten the outlet in place. Install the cover over the outlet using the included screws. Tighten the screws to a snug fit.

Plug the washer in and test for power. Press the black button on the face of the GFCI outlet to test and trip the circuit. The power will shut off at the outlet. Press the red reset button to reset the circuit and turn the power back on.
References
Warnings
Be sure to always contact a licensed electrician before beginning this or any electrical project.
Ensure that all wiring meets the electrical codes for your local area.
Writer Bio
Billy Brainard graduated with a Bachelor of Science degree in education from Trinity College. As the department chairman he was responsible for creating and writing the curriculum for 7-12 grade students. Currently he writes for eHow and works part time helping employees by creating and writing resumes to help in their job search.
Photo Credits
Martin Poole/Lifesize/Getty Images
More Articles