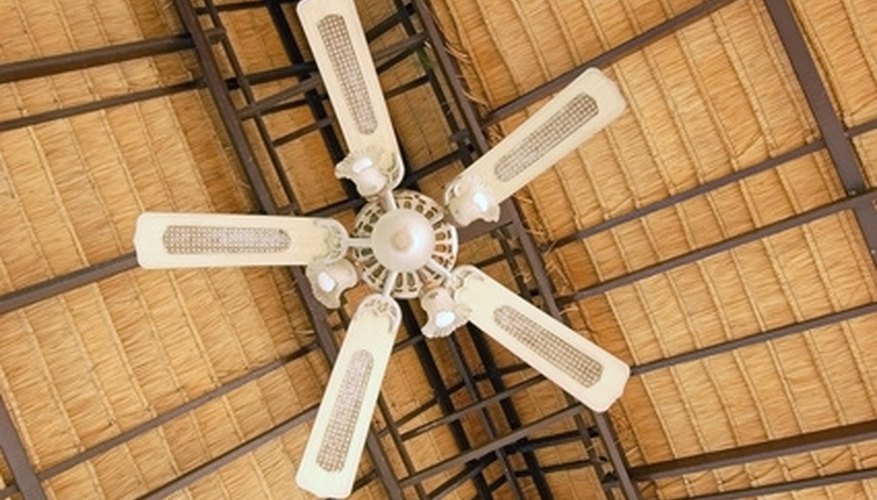 They can assist in heating or cooling a space by circulating the air. Hampton Bay manufactures several lines of ceiling fans that are made for the the home. It doesn't even take a professional to wire one during the installation process. Just follow several steps and you can have a working Hampton Bay ceiling fan making your room more comfortable in no time.
Turn off the power to the room where you will install the ceiling fan. It is best to do this first at the light switches in the room and then at the circuit box.
Remove the old light fixture or fan that you have installed in the ceiling. Use the circuit tester to check for any active electrical current in the wires before you handle and disconnect them.
Snap the mounting bracket into the ceiling's electrical bracket. Once you actually hear and feel the snap, you will know that the bracket is securely in place.
Attach the mounting head of the fan to the mounting bracket in the ceiling. Insert the screws into the holes around both brackets once they are attached.
Attach the black (positive) wire of the fan to the black wire in the ceiling. Twist the exposed metal of the wires together. Cover the connection with a wire cap.
Repeat step 5 for the white (negative) wire and the green (ground) wire.
Attach the blades to the fan. Slide each blade into an arm on the fan. Secure them with screws.
Turn on the power in the room.
Test the wiring of the fan to make sure the connection is working. Flick on the switch in the room that is connected with the fan. The fan will begin turning if everything is done correctly.
Things You Will Need

Ladder
Screwdriver
Circuit tester
Wire cutters
Mounting bracket (comes with fan)
Wire caps