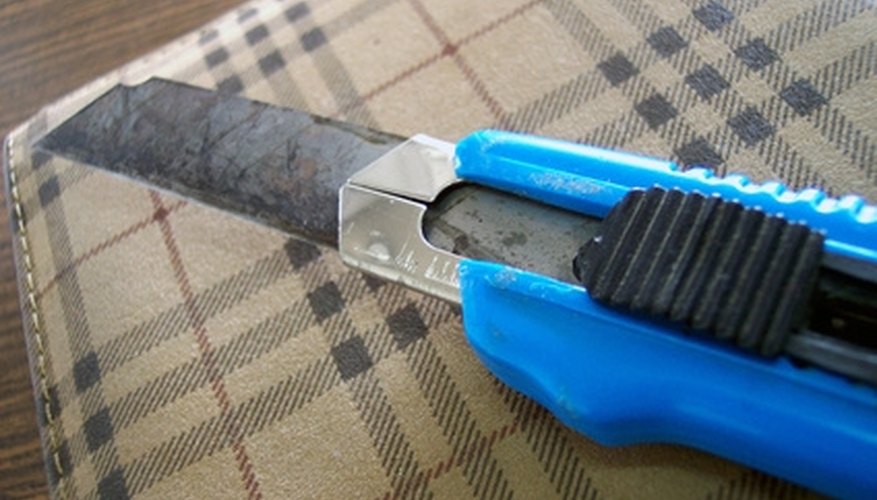 It has the look of glass but the durability of plastic. Although plexiglass is much easier to work with than glass -- part of its appeal -- you must still be careful not to scratch it. Homeowners and hobbyists are often tempted to work on plexiglass using standard woodworking attachments, but plexiglass often will shatter and splinter off in these cases. This can lead to frustration, ruined workpieces, and wasted time and money.
Place a cardboard mat or wooden board on a table or work surface. Position the piece of plexiglass so its edge is flush with the edge of the mat.
Place your scrap piece plexiglass on top of the piece to be cut. The scrap piece forms the cutting line. Clamp both pieces to the worktop and mat.
Guide your utility knife along the cutting line, using your straightedge. Score the plexiglass with firm, even pressure. Do this about eight times on the line. It is fine to score more times if you are unsure that the cuts you have already made will be effective.
Snap the plexiglass sheet along the scored line using firm, even pressure.
Things You Will Need

2mm-thick plexiglass
Utility knife
Scrap piece of plexiglass or board
Wooden board or heavy cardboard mat
Tips
If you are cutting a thicker piece, such as 4mm thick, make about 16 passes with the utility knife along the cutting line.

For thicknesses over 5 mm, it is more effective to use a saw fitted with a plastic blade.