How to Decorate Around a Wood-Burning Stove
A wood-burning stove presents a decorating challenge -- in the winter, it offers a lively focal point to the room, and in the summer, it can be a dead space. Fire safety is a crucial consideration with a wood stove. Some wood-burning stoves have so much character that leaving the area around it as uncluttered as possible offers an effective decorating strategy. By adding practical and decorative elements near your wood-burning stove, you'll brighten up the area year-round.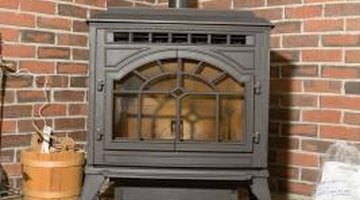 Center a teakettle on top of the wood stove if your stove is flat on top. Keep water in the teakettle to add humidity to the room. A teakettle adds a homey decorative element to the room. A brightly colored or shiny teakettle will add interest to the stove area.

Place wall art behind the wood-burning stove to add year-round visual interest to the area around the stove. Metal advertising signs offer a whimsical and eye-catching approach and come in a wide range of colors and styles. Alternatively, add a painting that picks up the colors of a rug or curtain.

Set up a metal bucket for kindling near the wood-burning stove. This provides a practical and decorative element. Choose a galvanized or brass bucket to create contrast with a black or dark-colored stove.

Select tools for your wood-burning stove that add visual appeal. A fireplace set makes cleanup convenient. Choose a set that goes with your decorating style, such as one with cast iron, brass handles, figurative handles shaped like animals or another motif.

Decorate around the wood stove with potted plants during the summer. This will brighten up the area when the stove isn't in use. Houseplants also help clean indoor air.
References
Warnings
Burn only wood in your wood stove, and make sure that the stove is on an approved stove board or other material that meets your local fire code.
Keep textiles such as tapestries, curtains and other flammable materials away from the wood-burning stove.
Don't place dry flower arrangements, pine cones or flammable holiday decorations near the stove.
Writer Bio
Gryphon Adams began publishing in 1985. He contributed to the "San Francisco Chronicle" and "Dark Voices." Adams writes about a variety of topics, including teaching, floral design, landscaping and home furnishings. Adams is a certified health educator and a massage practitioner. He received his Master of Fine Arts at San Francisco State University.
Photo Credits
Jupiterimages/Photos.com/Getty Images
More Articles