How to Break in a Small Engine
Whenever you replace a small engine or the engine's piston rings, you must break in the engine in order to get maximum power from the new engine. Engine break-in heats up the new piston rings and seals them to the cylinder wall. This prevents combustion gases from escaping from the combustion chamber, which keeps your engine runner smoother. Without proper break-in, combustion gases will pressurize the engine and force oil out of the engine breather, which means that you will burn more oil than necessary. Large engines typically take 500 miles to break in, but smaller engines require a shorter break-in period.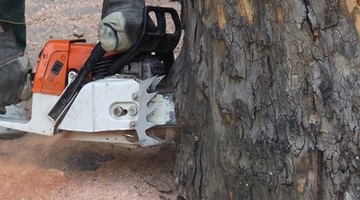 Fill the engine with the appropriate type of oil for your small engine, as indicated in your owner's manual. Read the dipstick to ensure you have filled it to the proper level.

Start the engine as normal, then allow it to idle for about five minutes. You may need to increase the throttle a few times when starting so the engine stays running.

Run the engine at half power for about 10 minutes. You can do this by adjusting the throttle lever on the engine or simply operate the machine as usual.

Allow the engine to idle for another five or 10 minutes.

Run the engine at full power for at least 10 minutes, either by using the machine or adjusting the throttle lever.

Shut off the engine and allow it to cool.

Remove the oil drain valve or bolt by hand or with a wrench, drain the oil into a drain pan and then replace the drain bolt. Use caution with this process because the oil and engine parts could still be hot.

Fill the engine to the designated level with the proper type of engine oil for your engine.
References
Tips
Small engines still come in a variety of sizes. This process will work well for small engines like in chain saws or small lawn mowers. Riding lawn mowers may require a longer break-in time. Refer to your owner's manual for specific information about breaking in your engine.
Your engine may require a mixture of gasoline and oil; refer to your owner's manual for details and measurements.
Writer Bio
A former cake decorator and competitive horticulturist, Amelia Allonsy is most at home in the kitchen or with her hands in the dirt. She received her Bachelor's degree from West Virginia University. Her work has been published in the San Francisco Chronicle and on other websites.
Photo Credits
More Articles