How to Install a 4-Wire Power Cord for a GE Dryer
Since 1996, the National Electrical Code has required all new residential construction to install grounded, four-wire dryer receptacles. Before Jan. 1 of that year, residential construction was allowed to install three-wire dryer receptacles. Because of the availability of both receptacles in homes, as of 2010 GE dryers are not sold with a cord attached or with a power cord at all. You must purchase your four-wire power cord separately and install it in your GE dryer.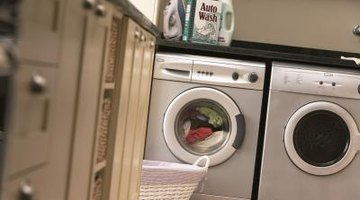 Turn the screws holding the terminal block access cover counterclockwise to remove them, releasing the cover from the back of your GE dryer. Removing the cover exposes the terminal block inside the access panel.

Insert the wings of a butterfly clamp connector into the circular opening beneath the access panel. Thread the wires from the four-wire power cord through the connector and into the access panel. The clamp connector is provided with the dryer cord.

Remove the green ground screw located at the top left of the access panel opening in the GE dryer cabinet. Remove the existing green ground dryer harness wire from beneath this screw. Thread the ground screw through the ring terminal on the green wire from the four-wire power cord. Attach the ground screw and the power cord green wire to the dryer cabinet.

Remove the silver screw from the middle terminal on the terminal block. Attach the white wire from the four-wire power cord to the center terminal. Place the green dryer harness wire you removed from the dryer cabinet in Step 3 on top of the white wire. Insert the silver screw through the ring terminals on both wires and into the terminal block, securing the two wires beneath it.

Take out the two brass screws to the left and the right of the silver screw on the terminal block. Attach the black and red wires to the left and right terminals and insert the screws to secure the wires beneath them. The red and black wires are both hot wires and can attach to either the left or right hot screws.

Tighten the two screws on the butterfly clamp connector to secure the dryer power cord into the GE dryer cabinet. The clamp connector keeps the GE four-wire power cord from accidentally pulling from the dryer cabinet. Replace the terminal block access cover onto the back of the dryer.
References
"National Electrical Code"; National Fire Protection Agency; 2008
Writer Bio
Cecilia Harsch has been writing professionally since 2009. She writes mainly home improvement, health and travel articles for various online publications. She has several years of experience in the home-improvement industry, focusing on gardening, and a background in group exercise instruction. Harsch received her Certified Nurses Assistant license in 2004. She attended Tarrant County College and studied English composition.
Photo Credits
Andrew Olney/Photodisc/Getty Images
More Articles