How to Change the Plug on an Amana Clothes Dryer
Most homeowners do not realize that when they purchase a dryer, the plug is not installed by the manufacturer. This is due to varying voltage regulations, and different types of power sources. Mobile homes voltage regulation is coded differently than with standard single family homes, and normally requires a four-prong power cord. Condominiums and apartments have different voltage regulations as well, and may use three or four-prong power cords. An Amana dryer has the option for connecting to both types of power cords. Installing the power cord on an Amana dryer can be done with little difficulty, no matter your voltage regulations or requirements.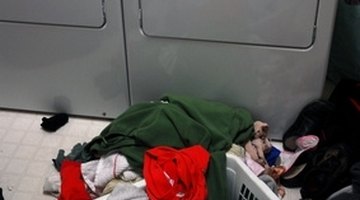 Unscrew and remove the access panel on the back of the dryer. The access panel is a vented metal plate near the top of the dryer.

Place the strain relief inside the power supply hole on the back of the dryer. The strain relief is the metal coupling that is supplied with the drier power cord. The power supply hole is located just underneath the wire connection points. Insert the dryer power cord through the strain relief; then tighten down the screws.

Place the red wire onto the L1 terminal; then tighten down the screw. Place the black wire onto the L2 terminal; then tighten down the screw.

Place the white wire onto the Neutral terminal; then tighten down the screw. If you have a four-prong dryer cord, for use with mobile homes, loosen the ground screw--in place on the bulkhead of the dryer--and detach the factory installed ground wire on the back of the drier then set it aside.

Place the green wire onto the ground connection; tighten down the screw. Replace the ground wire--that you previously removed--to the Neutral terminal, along with the white wire, so there will be two wires attached to neutral.

Replace the access cover on the back of the dryer. Screw it into place securely.
References
Warnings
Ensure that you attach the wires to the correct connection points. Incorrect connection could result in electric shock, or short circuit.
Photo Credits
More Articles