How to Organize Nuts, Bolts and Nails
When working in trades that involve handy work, one way to ensure efficiency is to not only have organized tools but also organized fasteners, like bolts, nuts and screws. Because their purposes vary, it is important to know which type of fastener you are using and where to find it. Organizing your nuts, bolts and screws can be done by sorting out the parts, taking inventory, buying an organizational unit, labeling the compartments and finally putting the bolts in their respective compartments.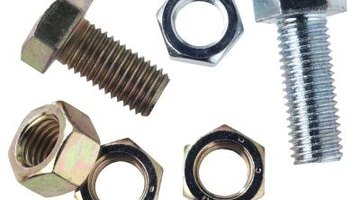 Sort the bolts, nuts, and screws from each other. The first step in organizing these parts is to separate them from each other. If you do not the difference among them, find a fastener chart that has pictures and details the different types and categories.

Take inventory of the type of bolts, nuts, and screws and how many you have. Bolts, nuts, and screws have many different categories, and vary based on size, drive type, length and head styles. Taking inventory will help you know which types of each part that you have and the size of the organizational unit that you will need.

Buy an organizational unit that suits your needs. The ideal organizational unit for your fastener parts is one that is big enough so that there are enough compartments for all of the parts to fit comfortably and so that there are enough left over for extras, as well as one that allows you to see the different compartments. There are clear, craft organizers (used for organizing materials like buttons and beads) that you can pick up at craft stores, or tool and utility chests sold at hardware stores.

Make labels for the compartments. Labeling the compartments helps to keep track of the bolts, nuts and screws that you have and it is a good way to keep your fasteners organized. Label to clearly identify what is in the compartment so on the labels should be as much identifying information in the largest size font as possible. An example of an informative label would be: Wood screws, Philips flat head, 1/4-20 x 6 (fastener category, head style, diameter x length).

Put the bolts, nuts, and screws in their respective compartments. Put the fasteners away in their respective compartments once you have the organizer labeled. Put the organizer in a location that is closest to your work area and easy to reach.
References
Writer Bio
Shannon Johnson has been a freelance writer since 2008, specializing in health and organic and green-living topics. She practiced law for five years before moving on to work in higher education. She writes about what she lives on a daily basis.
Photo Credits
Brand X Pictures/Brand X Pictures/Getty Images
More Articles