How to Make Slip Covers for Tub Chairs
Tub chairs -- sometimes called bucket chairs -- have a bucket or tub-like shape. The name of the chairs derives from their shape, not their use. Tub chairs come in a variety of sizes and types, but all models can benefit from a slipcovers -- which protect the chairs, and change their appearance.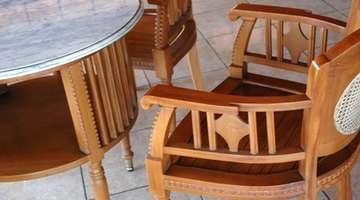 Take measurements of the chair cushion or the seat -- if the chair does not have a cushion -- the back, top and arms of the chair. Measure: the chair back from the seat to the top; the back of the chair from the top to the bottom; and the width across the chair and the arms. Accurate measurements are important for making a slipcover.

Place the fabric over the chair and mark it with a pencil or chalk for more curvy chairs. This will give the basic shape on the fabric before cutting. Mark the fabric in small sections based on the shape of the chair. Use pencil on light-colored fabrics and chalk on dark colors. These will not damage most materials and will wash off easily.

Cut the fabric. Cut one piece for every part of the chair according to the measurements and markings. Leave about 1 to 2 inches of extra fabric for sewing.

Place the pieces of fabric on the chair so that the inside of the fabric is on the outside. Use sewing pins to pin the fabric together around the tub chair. A slipcover must slip onto the chair, so pinning it on the chair will ensure that it is shaped accurately and fitted to the chair. Pin the pieces of fabric so the cover shapes to the chair and covers everything from the tub-like seat to the curved arms and back.

Baste the slipcover together. Use a needle and thread and sew large stitches along the pins on the inside of the slipcover. This will hold the slipcover together.

Remove the slipcover from the chair. Wiggle it off of the tub chair, but take care not to accidentally rip out the basted seams. Sew the seams along the basted line on the sewing machine.

Fold up the bottom edge of the slipcover and pin the hem on the bottom. This should go around the entire bottom of the slipcover, so that the slipcover is even. Sew the bottom hem.

Turn the slipcover over so that the stitches are on the inside. Wiggle the slipcover onto the tub seat and adjust until it covers the seat correctly.
References
Tips
It is possible to add a skirt to the bottom edge if preferred.
Writer Bio
Helen Jain has been writing online articles since December 2009 for various websites. She has studied English and psychology and hopes to get a Ph.D. in English in the future.
Photo Credits
More Articles