How to Get Out Grape Popsicle Stains
The grape juice in Popsicles can easily stain clothes, carpets and some types of stone floors. Some grape Popsicles also contain food dye that will make the grape Popsicle stain worse and harder to remove.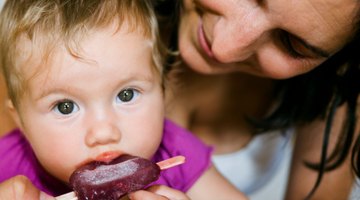 Things You Will Need
Liquid dish soap
White vinegar
Whitening toothpaste
Work quickly to remove stains, as the longer they sit on an area the more they settle into it and the harder the stains are to remove. Use non-toxic cleaning solutions to avoid contaminating your home's air quality.
Mix 1 cup warm water with a few drops liquid dish soap. Use gentle soap that does not contain bleach.

Blot the soapy solution on the grape Popsicle stain until you remove it. Work from the outside of the stain toward the center.

Soak a clean cloth in white vinegar if the stain is still visible.

Dab the stain with the white vinegar until it is gone.

Dab whitening toothpaste onto the stain if you can still see it. Scrub the toothpaste into the stain with an old toothbrush. Work until the stain is gone.

Rinse the area with clear water and dry it completely.
References
Writer Bio
Kaye Wagner has been working in the fields of journalism and public relations since 2006 and is a recipient of a National Hearst Award. She is particularly interested in home-and-garden projects, as well as beauty and fashion writing. An avid traveler, she also writes travel reviews and guides. Wagner earned a Bachelor of Arts in journalism from Brigham Young University.
Photo Credits
Dynamic Graphics/Creatas/Getty Images
Dynamic Graphics/Creatas/Getty Images
More Articles